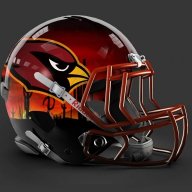 Stone Cold
Banned from P+R
Joined

Mar 13, 2004
Posts

14,731
Reaction score

9,715
Location
Yeah, I hadn't really thought it through. Mostly I forgot about the lurkers. It would have been easy enough to start a thread and a conversation several days before game time. In the thread you ask anyone interested in the convo to add their name so they could be invited into the conversation. That way, for members, it would be very inclusive. But visitors and lurkers would be shut out. So, no go.

I just think there are times when your fingers really want to shout out every 4 letter word they can think of. I rarely swear, pretty much got that out of my system in the Army 40 years ago. But game time is the big exception for me and it looked like a "private" yet forum-wide conversation might have been a nice way around the usual language restrictions.
I am still up for trying it out to some extent...as one who is psychologically prone to extreme language a place with fewer restrictions would be safer to discuss the game.