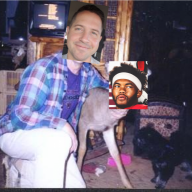 Joined

Jul 21, 2002
Posts

24,132
Reaction score

11,479
Location
Here is my go at creating a mock; I used Fanspeak with the Fanspeak Big board.

My top needs heading into the draft:
1. OC
2. DE
3. CB/S
4. QBOF
5. OL Depth
6. OLB
7. ILB

1. When it was my turn to select for the Cardinals, there was a conundrum: my top prospect for the Cardinals needs (Best player available at a position of need) was gone. Center Ryan Kelly was scooped up by the Texans at #22. Jarran Reed is available, but he is more of a supreme run stuffer. Leonard Floyd is available, but I think his lack of play strength isn't ideally suited to what the Cardinals want to do. William Jackson is available, but I think he is a bit too stiff.

So I went a different direction and one many on this board will think is crazy:

R1P29
QB Conner COOK
ARIZONA CARDINALS

Why did I pick Cook? Because he has a very good deep ball, and he played in a pro style offense. He has size, pocket presence and won a lot of games at Michigan State. He has a few mechanical flaws, but the idea is that Cook will sit for two seasons while Palmer plays out the end of his career, but he also isn't forced to play right away. QB is so important that I think the trend might be swinging to teams trying to have three legitimate QBs on their roster.

Look at what the Eagles are doing with Bradford, Daniels, and presumeably Carson Wentz. Arians offense is a very demanding offense on a QB and from what we've witnessed, it's unlikely a year one QB will be any good.

Cook will still have three years on his contract once he becomes the starter, so the team will have a good idea whether they want to pay him once he takes the reigns.

Is Cook a reach? I don't know, I don't care. If you want Cook, you have to take him here. Trading back isn't much of an option because he won't be available too much later.

2. When I finally got to select again, the following prospects were on the board with my comments:

1. Adolphus Washington (A bit smaller than what the ideal for the Cardinals like out of a DL).
2. Matt Tuerk (Had a down senior season; other center prospects that are nearly even could be had later).
3. Yannick Ngakoue (Quick twitch athlete, but didn't win many one-on-one battles)
4. Kamalei Correa (Explosive, violent OLB, who had a down junior year)

There were others, but based on the needs I went with:

R3P29
OLB KAMALEI CORREA
ARIZONA CARDINALS

As many on this board have stated, the Cardinals need to make moves to win now. While taking Cook in round one does not meet that objective, adding Correa gives the team a speed rusher that doesn't have to be "the guy" right away. Playing with Campbell, Jones, Golden, and Gunter, Correa gives the Cardinals a situational pass rusher that could put the defense over the top in the short run, and gives the team insurance if Jones walks in the long run.

3. Once you move into rounds 4-7, teams start to take a bit of a more needs based approach. With that in mind, I still haven't gotten that center that I wanted, nor have I addressed DE.

128: R4P30
C EVAN BOEHM
ARIZONA CARDINALS

I really like the film I've seen from Boehm and I think he can start very early in his career. I think his downside is being a heady starter. I think Boehm will stick in the NFL, but I don't see him being a Pro Bowler. He is limited by short arms, but you can tell he is a tough and smart player. He was a 52 game starter, which is extremely rare for an offensive lineman.

4: R5P28
S JUSTIN SIMMONS
BOSTON COLLEGE

5: R5P31
CB JAMES BRADBERRY
SAMFORD

The Cardinals add two CB/S tweeners with size and speed. As Mitch has pointed out, Justin Simmons has about the most impressive tape for any Safety prospect in this draft and he is versatile. I wanted a DL prospect with one of these picks, but the best available was DJ Reader and he is more a NG prospect and not the DE/DT prospect I'm looking for.

6: R6P30
G JOE THUNEY
NC STATE

With the final pick, I went with a versatile OL prospect to fill the G/T backup position. Thuney does have starting capability and is highway robbery this deep in the draft.

Conclusion? The CB and DL pool dried up real quick and the Cardinals will need to draft one early if they want one. I like the draft I walked away with:

1. Legitimate QBoF.
2. Another edge rusher to complement the addition of Chandler Jones.
3. OL depth
4. DB depth.

What didn't I get that I wanted? A future replacement for Calais Campbell and Floyd/Fitzgerald.