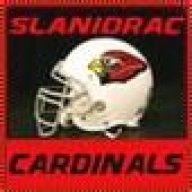 ASFN Icon
Supporting Member
Joined

Jul 11, 2002
Posts

12,051
Reaction score

8,247
Location
Our Luck seems to be running rampant. Things that never happen to this team is becoming the norm. The rub of the green if you will has gone our way except for 1 pass against Green Bay.
Winning on the road.
Winning east coast trips.
27 fumbles losing only 3.
Completed passes bouncing out of opponents stomachs and into a waiting Bakers arm.
The Viking kicker missing a chip shot.
A running back not known for his receiving making a spinning one handed catch for a td on a rainy day and a wet football.

Watch the replay of the td pass to Hopkins yesterday. Totally the wrong guy to throw it to. But an absolutely pinpoint perfect pass and catch on 4th and two results in a td. The ball should of went to Conner who was wide open and probably would have scored. But it didn't matter…Luck.

Lord knows we've been on the wrong side of luck for decades. How close at times. The what if's. The one play. The one bounce. The fg that just went wide against the then Redskins. Even our Super Bowl appearance with a catch in the end zone that we still wonder if his toe was down.

We have a long road yet to travel. From here on out the only game that will really matter is our last game. Hopefully that game will be in February.

But maybe, just maybe luck is finally on our side.
Last edited: