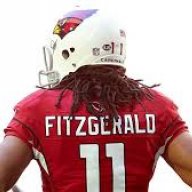 Crawled Through 5 FB Fields
Joined

Aug 10, 2005
Posts

13,405
Reaction score

2,982
Location
1. I keep writing up my own 1st round mocks and searching all others to see if there will be a surprise player or two on the board at #24. Mostly, I am not seeing any surprises---but---if I had to guess at this point---some of the possibilities would be:
OLB Randy Gregory, Nebraska
RB Todd Gurley, Georgia
RB Melvin Gordon, Wisconsin
CB Trae Waynes, Michigan St.
S Landon Collins, Alabama
NT Danny Shelton, Washington
DE Arik Armstead, Oregon
DT Malcom Brown, Texas
You might be surprised to see Trae Waynes the #1 rated CB on this list---but interestingly some of the teams that have the greatest need for a CB also need a pass rusher---and the way the draft goes---the pass rushers go early because it'll be hard to find good ones later, whereas there is a deeper pool of CBs to be availed in other rounds.
When I look at the list above and ask myself which players could make the greatest impact on the Cardinals to me it starts with RB Todd Gurley who would become our beast mode RB. We have enough depth at the position to be able to be patient in terms of Gurley's rehab and increase his number of carries as he gets stronger.
The second guy who pops out to me on this list is DT Malcom Brown. I think he is the Aaron Donald of this draft. While he isn't quite the quick penetrator Donald is---he is stronger at the point of attack---and he has a knack for slipping off of blocks to be able to close in quickly on the RB or QB.
Waynes is enticing because of his length, speed and competitiveness---but---for a 1st round pick he doesn't play as physically as one would expect or want. I think Landon Collins is a better player because of his toughness and he's no slouch in coverage either. The Cardinals like to play a lot of 3 safety packages---so if the Cardinals drafted Collins it would allow them to use the Honey Badger more at CB---which, imo, because of HB's outstanding cover techniques is a good move.
2. Nifty Fits:
I have been thinking a lot lately about which players in the draft at which position are the best fits for the Cardinals and here are some thoughts:
QB: Bryce Petty, Baylor---Love the quick release and his flair for scoring TDs.
RB: Todd Gurley, Georgia---Superb physical traits and competitiveness.
RB: Jay Ajayi, Boise St.---Would be a super fit for us, imo. Has a good blend of quickness, burst and toughness, although he's not a natural tackle breaker.
RB: Ameer Abdullah, Nebraska---I loved how well Tre Mason ran for the Rams as a rookie and feel that Abdullah, with his quick feet, acceleration and hands is very much in the same mold. The fumbles are the one thing that gives some pause, however.
WR: Devin Smith, Ohio St.---If adding John Brown helped win 3 close games, just imagine what Devin Smith could do. I think Brown at his size is mostly a slot WR, while Smith would give us the speed, size and hands up the sideline that we need versus great DBs like the Seahawks'.
WR Jaelen Strong, Arizona St.---Super competitive, clutch and tough.
WR: Tyler Lockett, Kansas St.---Best return man in the draft, plus he is a clutch, gritty slot WR in the Julian Edelman mode.
WR: Justin Hardy, East Carolina---possession WR deluxe, who shakes press coverage quickly and has an uncanny knack for getting open.
WR: Rashad Greene. Florida St.---Talk about clutch. Greene is quite possibly the best chain moving WR in this deep draft of WRs.
WR: Antwan Goodley, Baylor---Might be somewhat raw, but with the right coaching and QB I think he could be a star.
WR Jamison Crowder, Duke---He might not be as fast as Miami's Phillip Dorsett, but Crowder is tougher and more competitive.
TE: Jesse James, Penn. St.---I think he is the most well-rounded TE in this draft. He's a solid blocker and a big target in the passing game.
TE: Wes Saxton, South Alabama---a late round project, feisty competitor who is naturally athletic.
C: Cameron Erving, Florida St.---has the size, feet and agility to be a Pro Bowl center.
C: Andy Gallik, Boston College---Watched every one of his games at BC and saw how tough, smart and consistent he is.
If there are any players I did not include here whom you would like to note and/or would want my perspective of, please let me know.
I will provide my Nifty Fits on defense sometime this week.
3.
2015 Masters Mock:
1.
"Brendan" Todd Gurley, RB, Georgia
. This splendid Georgia magnolia blooms in AZ!
2.
Paul "AZ-inger" Dawson, WILB/WOLB, TCU
. You've heard of "Ray's Creek" at Augusta. Well, ballcarriers versus AZ will have to deal with "Dawson's Creek."
3.
Rashad "Hubert" Greene, WR, Florida St.
AZ hits this Greene 17/18 times in regulation for first downs.
4.
Andy "North" Gallik, C, Boston College
. All signs pointing North for the Cardinals' offense.
5.
Ty "Colin" Montgomery, WR/PR, Stanford
. AZ goes the Full Monty here.
6.
Nick "Faldo" Marshall, CB, Auburn
. This Marshall puts a Nick on Marshawn.
7.
Ray "Floyd" Drew, DE, Georgia
. AZ gets it's own "Ray's Creek."
7.
Jordan "Spieth" Richards, S, Stanford
. The leader in the clubhouse.
Stay in the fairways my friends!
Last edited: