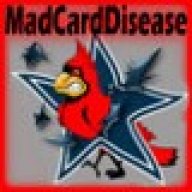 Moderator
Moderator
Supporting Member
Joined

May 13, 2002
Posts

18,659
Reaction score

7,837
Location
The 2021 season ended with the Cardinals tripping before the finish line. They invested heavily into the 2021 season and that puts them behind the 8 ball heading into 2022. Many believe that the NFL Salary cap will hit $208M for 2022. That leaves very little wiggle room for the Cardinals. According to Spotrac the Cardinals only have about $5M of cap space heading into the 2022 offseason.

Notable Cardinals Free Agents:

Chandler Jones
James Conner
Christian Kirk
AJ Green
Zach Ertz
Colt McCoy
Robert Alford
Max Williams
Chase Edmonds
Cory Peters
Michael Dogbe
Dennis Gardeck
Max Garcia
Aaron Brewer

As you can see this isn't pretty. Oh and lets not forget that Kyler will be wanting a new contract in the next year or two if not sooner.

That pretty much limits who the Cardinals can re-sign. Sadly Chandler Jones will not be back as a Cardinal next year as they just won't be able to afford him. Someone will throw big money ($10M+ per year) at Kirk so I think he is gone as well. With both Conner and Edmonds as FAs I think the Cardinals might be able to keep one and that should be Conner if the price is right. Alford is going to be 34 and can't be counted on. Peters might be back for minimum but is getting up there in age. Max Williams might be back on a one year prove it deal coming off and injury.

Here is who I see the Cardinals re-signing with what they can afford:

James Conner $5.5M per year for 4 years
Colt McCoy $1.5M per year for 2 years
Aaron Brewer $1M per year for 3 years
Zach Ertz $6.5M per year for 3 years
Michael Dogbe $1M per year for 3 years

In order to make room for the resigned Cardinals as well making some room for FA and draft picks the Cardinals can do the following:

Cut Jordan Hicks (add $6.5M) (Time for the 1st rounder ILB's to step up)
Cut Devon Kennard (add $4.8M)
Cut Andy Isabella (add $1.1M)
Extend Justin Pugh (add $5M to 2022 cap)

With these moves the Cardinals would have about $10M heading into FA and the draft with a bunch of holes left to fill. Don't expect any big name FAs this year. The Cardinals will be searching the bargain bin to fill holes in 2022. It will be a make or break year for Keim and KK.