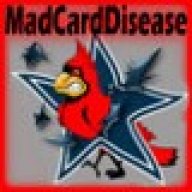 Moderator
Moderator
Supporting Member
Joined

May 13, 2002
Posts

19,081
Reaction score

9,215
Location
With the Draft just two weeks away I'm doing my final mock for the Cardinals. With no 4th or 5th rounders I see the Cardinals making some moves to add picks in those rounds. I feel this will be another busy draft with a lot of trades.
In the first round the Cardinals will trade the #23 overall pick to the Chiefs for the #29 and #94 overall picks.
The Cardinals will then trade with the Eagles sending the #94 pick and #201 pick to the Eagles for the #101 pick and #154 pick.
So this will give the Cardinals the following picks:
#29
#55
#87
#101
#154
#215
#244
#256
#257
You must be registered for see images attach
Round 1 Pick #29
:
Boye Mafe
, Edge, Minn
6'3" 255lbs
With the first pick for the Cardinals I think they will take the best Edge, OL, CB or WR left on the board. Mafe is a freak athlete that still needs some seasoning with his fundamentals. He uses his athleticism to shed blockers and make plays. With the hole left by Jones leaving via FA, Mafe gives the Cards an option to try and fill those large shoes.
You must be registered for see images attach
Round 2 Pick #55
:
James Cook
, RB, Georgia
5'11" 190lbs
Not Cpt James Cook the famous British Explore but James Cook the little brother of Dalvin Cook. Yes James is the younger brother of Dalvin but he clearly is small than Dalvin as well. With that said he has huge Big play ability. Cook is a shifty runner who would be a great replacement for Chase Edmonds.
You must be registered for see images attach
Round 3 Pick #87
:
Jalen Tolbert
, WR, S. Alabama
6'1" 195lbs
The Cardinals love drafting WRs in the 3rd round from small schools. Tolbert is a smooth WR who reminds me of a poor man's Chris Olave from Ohio St. Like Olave, Tolbert runs great routes and looks effortless out there. He will provide another weapon for Kyler and will eventually replace AJ Green as he gets his feet wet some and gains experience.
You must be registered for see images attach
Round 3 Pick #101
:
Phidarian Mathis
, DT, Alabama
6'4" 312lbs
Mathis is a monster of a man. He was the anchor of the Tides DL and excellent at stuffing the run. Well respected in the locker room by both his teammates and coaches he was voted as a team captain. Corey Peters has been the unsung hero in the middle of the Cardinals DL for years. Mathis will be his successor.
You must be registered for see images attach
Round 5 Pick #154
:
Christopher Allen
, DE/OLB, Alabama
6'3" 243lbs
The Cardinals go back to back Bama players. Allen is a physical specimen who looks the part but is very raw. A knee injury his Sophomore year and a foot injury last year have limited him some. I wouldn't expect much from him his first couple of years as he learns the ropes.
Round 6 Pick #215
:
Eyioma Uwazurike
, DT, Iowa St
6'6" 320lbs
Uwazurike is another monster of a man has had to overcome adversity early in his life. Academics were not a strong suit for Uwazurike and he was academically ineligible as a freshman. He spent most of that year in the academic center till late at night and by his senior year ended up being named to the academic all-conference team. He has since enrolled in a master program at Iowa St.
You must be registered for see images attach
Round 7 Pick #244
:
Lecitus Smith
, OG, Va Tech
6'3" 314lbs
Looked athletic for a big man at the Combine. However he was somewhat inconsistent at Virginia Tech. Could develop into a solid backup.
Round 7 Pick #256
:
Zyon McCollum
, CB, Sam Houston St
6'2" 200lbs
The Cardinals love his length. He is another late round project that won't see the field initially except for maybe on special teams. Didn't see great competition in the FCS. However he has the athletic ability to eventually develop into a starter.
Round 7 Pick #257
:
Collin Schooler
, ILB, Texas Tech
6'3" 253lbs
Schooler transferred from Arizona to Texas Tech. He is an average at best athlete. However his football instincts are through the roof. Coaches will love him but the question remains if he has the athletic ability to play at the next level.