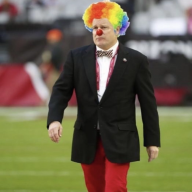 Joined

Feb 14, 2003
Posts

34,013
Reaction score

20,004
Location
Kyler is likely going to miss a load of games. Th Org likely thinks he's going to miss a load of games. I don;t think the Org or Kyler will be in any rush to get back until everyone is 110% sure his knee can handle it. Why would you push all your chips in for this year knowing that?

I expect them to draft heavily for the trenches this year, probably a CB in there too. Then I expect in 2024 they will sign FA's to fill some of the holes they have remaining but even then probably not huge signings.

The only way you can really compete with a QB earning what Kyler does is through the draft. I expect this team going forward will be built around draft picks and supplemented with vets.

We might get worse yet until we get better. I don't think a Budda trade is off the cards or should be. I think Ertz could go before the trade deadline. I think Hump is a prime candidate to go, possibly not this year but next (depending on the draft). Hollywood should be on the block too.
Who is saying the Cards needed to "push all their chips in for this year"? Literally no one.
The Commies went 8-8-1 starting Carson Wentz, Taylor Heinicke, and Sam Howell. Carolina went 7-10 starting Baker Mayfield, Sam Darnold, and P.J. Walker. Five games of P.J. Walker! They traded their best offensive player in October. The Browns went 7-10 with Jacoby Brissett starting 11 games.
Losing more than 10 games in the NFL today is a choice.
I don't understand why people imply that utilizing free agency to fill starting spots with starting-quality players somehow forecloses the possibility of building through the draft. You can do both! You probably should!