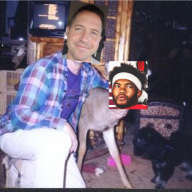 Joined

Jul 21, 2002
Posts

27,353
Reaction score

16,341
Location
that offensive line was ELITE when the team was 4-5 before he started and immediately led the team to a 6-1 record his rookie year?

Or were they elite the year before Lamar where they led to a whopping 4 YPC in 2017? And their offense was 27th ranked in the league that then took a quantum leap to 9th the next year when Lamar started playing?

Sorry… that offensive line has been elevated by Lamar because he puts defenses on their heels. It was a mediocre at best line before he got there and has been up and down his four seasons there.
Yep they were elite.
It's laughable you'd even question that. Up until last season, with their injuries and trading away Orlando Brown Jr , they were easily a top 5 OL.
Murray surpasses Lamar in nearly every passing category.