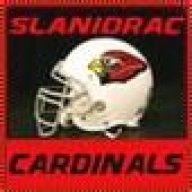 ASFN Icon
Supporting Member
Joined

Jul 11, 2002
Posts

11,996
Reaction score

8,153
Location
Kyler has gotten by on sheer athleticism against inferior talent. In high school and college he would face teams that had 2 or 3 great players. In the NFL the worst player on the field is probably 3 times better than he use to play against.

So here's the problem. He still believes he can do the same things here as he did in college. He still believes he can complete every pass regardless if it's a 2% chance of completion. He can't.Nobody can.

Until he learns an 8 yard completion is better than an almost spectacular attempted incompletion we will get exactly what we are getting from him.

Until he can find the open second read Wr We will see mediocrity in crunch time.

Until Kingsbury himself understand this and demands this from Murray we will fail. Until Kingsbury understands match ups I.e. empty backfield and plays that call for our o-line to hold for 5-6 seconds we will see 10 yard loss sacks. Especially against a team that is beating your o-linemen like a drum.

This is a two prong problem.