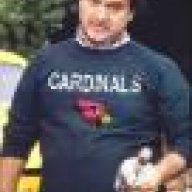 Hold onto the ball, Murray!
Joined

Dec 30, 2002
Posts

30,907
Reaction score

8,661
Location
Stout - None of us are as good (or as smart) as we think we are.

During my 77 years as a Cardinal fan, I've seen the hard-nosed approach work…and fail. I've seen a warm, nurturing approach do likewise.

Fire everybody only to see the approach fail. Give Kyler another year or 2 only to see him break your heart.

If it were easy, 32 teams would make it to the Super Bowl each year. I am totally against ignoring gaping problems, but there's something wrong with giving up on KM (kind of like throwing a bottle of ink at the Mona Lisa).

Part of me says "trash him." Part of me says: "Give him a year or 2,"

Neither of us has all the answers....or we'd be Bill "Freakin'" Belichik.
Well stated. We of course must give KM another year or two. I mean, unless he throws a hissy fit and threatens holdouts and just totally makes himself persona non grata. I hope he can FINALLY mature in that time. We shall see.