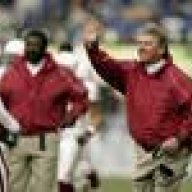 Joined

Sep 2, 2002
Posts

9,849
Reaction score

2,422
hence the "contrarian take"

i like analytics, but they measure offensive performance overall rather picking on scheme. So we are back to "is it talent, or is it scheme?" I think its mostly talent, with some K1 shoulder issues thrown in.

what is unanswered: the offense used lots of motion in 2019 but far less in 2020. The route trees were more varied in 2019 than 2020. There is likely a football reason for this other than "kliff is dumb".
You're trying to inject logic in a situation where it doesn't exist. Why did we continue to run bubble screens to wr that never worked? Why did we have so many pre snap penalties in empty stadiums with no motion? Why did it look like two years in that nobody was on the same page? HOW DOES A COACH CALL A QB OPTION WHEN THE QB IS INJURED, DOWN 11 POINTS WITH 5 MINUTES LEFT ON 3RD AND 18, AND THEN PUNT IN A MUST WIN GAME?!?
When someone shows you who they are, believe them. There is a reason that KK is the odds on favor to be the first coach fired.