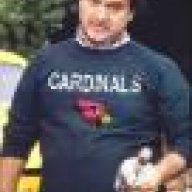 Hold onto the ball, Murray!
Joined

Dec 30, 2002
Posts

36,271
Reaction score

17,291
Location
One sign of leadership is not throwing teammates under the bus. Not criticizing them in public. Beachum talks about being a man, but any alpha male in professional sports would confront the player directly and behind the scenes. To go on radio is weak. Beachum isn't even elite at his own position. He wasn't even the best lineman on our own team of weak lineman. How is he going to explain how Kyler should be elite at his position? It's absolutely ridiculous.

Additionally, I think we can ascertain now where the leaks were coming from regarding Kyler to the media, including the study clause and the anonymous reports. Beachum is trash and why anyone would use him as a some how factual account of anything is beyond me.

Ya'll post pics of Kyler looking dappper or whatever but notice how he didn't respond to Beachum and his garbage.

That's leadership, not what Beachum did.
Remember a day or so ago when someone said that no one was blindly supporting Kyler and folks were like no, there's still a few? Yeah...it doesn't get any more blindly supporting than this. Somehow, after all this, Kyler comes out looking
better
and more of a
leader
merely for doing nothing lol