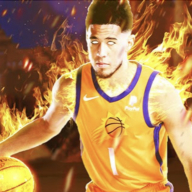 Working from home. Missing my free coffee!
Joined

Jan 3, 2003
Posts

13,351
Reaction score

2,381
Location
I just don't know. He is a #10 pick that is starting to show promise. That is like getting a #10 pick for free for other teams that are willing to pay. The depth of the Suns roster might make some teams more intrigued by the idea that real talent is buried in the rotation.

However, I am shocked at the low esteem in which the center position is held in the NBA. It's rather like running backs in the NFL. Unless he really shows a lot of ability to play the stretch 4, the interest in him will likely be less than we imagine. Fans have short memories, execs might as well. If he goes back to DNP's other teams might forget about him. However, if he goes back to DNP's he might be ready to move on all the more.
I am hoping with more minutes he does relax more. That seems to be the key to his game, playing calm and with confidence. We are seeing that start to happen with some minutes on the floor.
In my time watching sports, running backs and centers were the stars on every team. Much like PG and QBs are now.
There was a guy name Dan Issel. His nickname was Issel the Missile. He would play Center, but scored most of his points on three point shots (he started in the ABA that had the three line before the NBA) and long range shooting. Back then centers typically did not leave the paint, and Issel would have 30+ point games. He was ahead of his time, but would be a star in today's league. However, coaches where so entrenched on keeping the center in the lane, they would just send a guard or small forward to try, unsuccessfully, to guard Issel. Not like today, where the Center is "forced" to leave the paint area. To the extreme, like the Suns, where they want the big men to guard the three point line. (This kills me when I see Chris Paul trying to guard a center attacking the rim since Ayton is guarding a three point shooter.)