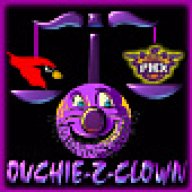 Joined

Sep 16, 2002
Posts

57,937
Reaction score

47,837
Location
Thought I'm not "sold" yet (1-2, is 1-2 and we are only 3 games into this experiment), there is a lot of different data to consider - most of it good.

Team comes out prepared. Hot start for less talented/experienced team is important imo.

Team seems to want to play hard. Haven't seen a single post questioning effort through three games. That couldn't be said of the prior regime's teams.

Team plays tough. There's hitting in both sides of the ball. They won't shrink from their opponent. I liked white talking trash to Dak yesterday.

The oline is actually working. I don't know how talented they are or if it's sustainable, but this is the most optimistic about oline play that I've been in a looong time. If they make the right offseason moves I believe this could be one of the best squads in cardinals history.

Gannon can be goofy (pew, pee, pew . . . shots!) but if he keeps this up he can be goofy as he wants. And we had 3 plays over 40 yards yesterday (like them shots).

They obviously saw something in dobbs that no one else has been able to untap kudos.

Undisciplined penalties are still a concern. They don't always prevent you from winning, but they can sure make it more difficult. It's reasonable to wonder if those had been halved whether this squad would've won one or two of their first two games.

Kyler is smiling. A lot. He's in AZ. He's putting the work. If this staff has him believing and that transforms him into a leader his career can skyrocket. And if it does he'll pull the team along with him.

Pretty freaking positive about what we are seeing this far. And admittedly surprised.