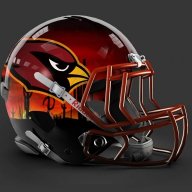 Stone Cold
Supporting Member
Banned from P+R
Joined

Mar 13, 2004
Posts

15,218
Reaction score

10,630
Location
Colt McCoy is 3 and 1 playing with mostly backups in meaningful games early in the season.

Kyler Murray played his best game of a decent season against cleveland, while kliff was out with covid.


Kliff does not call the same game with Colt as he does with Kyler.... he should. That cleveland game was the closest we have ever seen of kyler running the types of plays that kliff dials up for mccoy.

I think given a traditional qb kliff could call a fine game and post winning seasons. However, he has this idea in his head of what kyler is.....and he tries to gameplan around that.
kyler on the other hand does not seem to want to run the type of offense kliff wants to call for him.

IMHO...if kliff dialed up the exact same gameplan for kyler that he does for Colt...we would see a far different kyler murray than we have been.

so the issue with our team isnt kliff or kyler... it is clearly kliff AND kyler....one of them has to go.