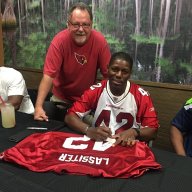 Living is Easy with Eyes Closed
Joined

Apr 30, 2007
Posts

15,538
Reaction score

7,591
Location
Mathematically. NO. Realistically, YES (IMHO). And here is why.

We are 3.5 games out of the last wildcard spot. We have 39 games left. That sounds like plenty to move up, right? Not really. There are only 2 wildcard spots and there are 6 teams ahead of us. All are over .500 and quite frankly they are all probably better than this team.

If there were only 2 teams ahead of us and we were 3.5 games behind, it would be much easier to move up. We win 4 games and one of the teams ahead of us loses 4 games and we are suddenly the 2nd wildcard team. However, the math does not work that way with 6 teams ahead of us. We need them all to lose (and that never happens as we all play each other). Also, we are hovering around .500 all year and we are not going to pass 5 teams doing that. The 6 teams playing over.500 make the math crazy. It is like we are 12 games behind.

There was a quote I read many years ago from a manager (maybe Sparky, I'm not sure) who said something like "If you are in second place and you are 3 games behind, you can catch them in 3 games. But if you are 3 games back from first place and there 4 teams ahead of you, it is like being 12 games behind because of the math. I am paraphrasing. I read that quote many years ago and it was from Sparky, or some other "character" manager.

Perhaps one of you know the quote and who made it. I'm just going from memory but it makes perfect sense (to me) in our situation.

On top of that the 2 wildcard teams will probably use their ace in the one game playoff and then they will have to face the rested Dodger pitching. Good luck with that. We used Greinke and Ray against the Rockies 2 years ago and did not stand a chance in the Dodger series facing Kershaw and the rest.

What are your thoughts?