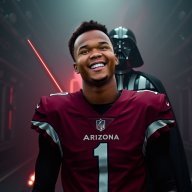 Joined

May 28, 2002
Posts

7,029
Reaction score

3,375
The way MB phrased the reset/wide net of the searches hinted that he is trying to gauge how other franchises run their front office. Then with the coaches, gauge football philosophies. At least that's how I read it.

I don't believe MB can do it as well as a competent franchise owner can. With a bungling family that just ate a bunch of contracts he extended, a Keim spiral, and multiple coaching flameouts in a row, we'd be fools to trust his judgment.

I think this whole process is as close to a mea culpa from MB and the Bidwill family as possible.

I think just like MB/Keim was hiring polar opposites as coaches, this time, MB looked around and hired a polar opposite of a GM.

If I can muster any hope from this process, it's that with a more professional and grounded GM/AGM (Monti and Sears), maybe they are better at using these coaching interviews for gleaming contemporary football philosophies than MB.

We have no evidence to suggest they are better than MB other than they are from the outside and seem solid.

MB's ownership created the situation where we had Keim's mess and Kliff's mess. We are in a more difficult situation to hire or trade for a coach with a new GM compared to incumbent GM's. We may not have gotten our top picks. We definitely look poorly run, but hopefully, this is the bottoming out in terms of organizational structure.

If that's the case, it's up to Monti and Sears to convince MB where to take us. It starts with MB being persuaded by Monti of what coach to hire. I hope they are up for the task. I hope that mea culpa mindset stays with MB so he's more amenable to what direction Monti suggests. If MB's ego is that he needs to make the decision, I sure hope he aligns his ego with Monti's vision.

I do wonder with all the zoom calls if MB is trying to moderate his level of involvement in the process. It was his m.o. to personally pick up players/coaches via his plane. Maybe there are too many candidates, or maybe he's trying to play the owner part at the appropriate time without taking over the process.

Maybe I missed it, but have they put out a statement or answered a question on if Monti is leading the coaching search?