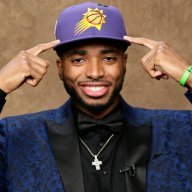 Joined

Oct 24, 2002
Posts

19,615
Reaction score

4,228
I know this team is totally different than those Suns teams but as a fan having watched those series, I'll never forget those series. They keep me from counting a series as over before it is.

For something more recent, Denver came back from 2 series last year after being down 1-3. They've been in positions like this before so I'm not sure how someone can write them off already. I know they had Murray last year but they didn't have Gordon. Its not like they collapsed during the season without Murray either, they had a better winning percentage after he went down than they had with him to that point.

This series isn't over, not yet.
It isn't over yet, but if the Suns go up 3-1 it is. The Suns team is quite disciplined. It's odd. They are emotional but not wildly so, and when things go bad they stay focused. When they get big leads they might give some of it back but rarely all of it.
we need to get one of these next two games.