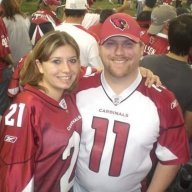 Joined

May 15, 2002
Posts

25,720
Reaction score

31,930
Location
We will not win unless K1 is protected at an elite level. Not top 10….. Elite.

With that being said……We only have one elite offensive lineman.
We have three big issues on our offensive line.
1 - We have, arguably, only one lineman outperforming his contract despite having three players being paid over 9 mil per year. That player is Beachum. Hudson probably meets his contract. Humphries either meets or slightly underperforms based upon the cap hit that year. Pugh underachieves based upon his salary. So we are paying a "premium" and getting average at best production as a unit.
2 - Based upon age, we have too little quality depth. Pugh, Last year we had three players over 30 which is fine but our depth was not quality enough to compensate when they inevitably missed time. I have started believe Jeremiahs philosophy that an o-line is only as good as it's worst player. Too many times we were starting multiple "tomato cans" and the production reflected that.
3 - We have a young QB who struggles with holding onto the ball too long, moving in the pocket, and requires a deeper drop to see the field. This magnifies our lines deficiencies.