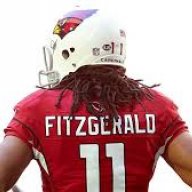 Crawled Through 5 FB Fields
Joined

Aug 10, 2005
Posts

13,405
Reaction score

2,982
Location
Evan Silva is one of the best draft evaluators, imho. Here's his Top 30:

Top 30 Dynasty Rookies
1. Corey Davis, Western Michigan
-- Davis skipped the Senior Bowl, suffered a severe high ankle sprain with two ligament tears during pre-draft training, and underwent surgery in late January. All he did was weigh in at the Combine, measuring 6-foot-3, 209 with long arms (33") and adequate hand size (9 1/8"). Davis reportedly scored an impressive 31 on the Wonderlic Test. The NCAA's all-time leader in receiving yards (5,278), Davis combines the quickness of a small receiver with the physicality of a big receiver. A terror after the catch on college tape, Davis reminds me of
Brandon Marshall
when Marshall came out of UCF, albeit with superior production and route-running polish. Davis does flash a tendency to let passes into his body rather than secure them with his hands, resulting in 11 drops as a senior. Hopefully, we'll get to see Davis work out before April's draft. Even if we don't, I think he is this year's highest-ceiling Dynasty rookie pick and likeliest to develop into a weekly fantasy difference maker.
2. Christian McCaffrey, Stanford
-- The Combine went as well for McCaffrey as we could have hoped. At 5-foot-11, 202, Ed's son weighed in heavier than college listings which had him in the 197-200 range, and he posted the fourth-highest SPARQ score among running backs in Indy. McCaffrey turned in rock-solid marks in the forty (4.48) and vertical (37.5"), and his three-cone time (6.57) ranked first at his position. McCaffrey doesn't consistently beat first contact on college film and remains undersized for an NFL workhorse, but I think he's going to be an immediate-impact pro who works his way into a 15-18 touch-per-game role. McCaffrey has a sizable advantage over
Leonard Fournette
in PPR scoring leagues.
3. Leonard Fournette, LSU
-- Fournette didn't do much at the Combine, but the measurables we did get align perfectly with his tape. At 6-foot-1, 240, Fournette blazed a 4.51 forty to lead all running backs in weight-adjusted Speed Score (116.0). By far, Fournette's best attribute is his freakish size-speed combination, which has garnered Bo Jackson comparisons. Fournette runs with an awkward stiffness at times, however, and I don't think he's a great all-around athlete. His 28.5-inch vertical was offensive lineman-esque. Fournette dropped 8-of-48 catchable targets in his LSU career, according to PFF College. Still, Fournette is a running back around whom the team that selects him will likely build its offense. I expect Fournette to be a top-15 real-life draft pick who could go as early as No. 4 to Jacksonville. If I played in a non-PPR Dynasty league, I would take Fournette over McCaffrey but probably not Davis.
4. Mike Williams, Clemson
-- Short on separation skills but long on body control and strength at the catch point, Williams resembles
Alshon Jeffery
as an in-air playmaker who dominated on back-shoulder throws and jump balls from
Deshaun Watson
at Clemson. It is at least mildly concerning, then, that Williams managed a pedestrian 32.5-inch vertical in Indy. This is a player whose game is built on winning the ball at its highest point. Williams did run respectable forty times at the Tigers' Pro Day, clocking 4.49-4.58 depending on the stopwatch. An imposing physical specimen at 6-foot-4, 218 with nearly 34-inch arms, Williams arguably offers a higher floor than
Corey Davis
, but lacks Davis' ceiling. Davis has more dimensions to his game than Williams and is likelier to become a true No. 1 wideout.
5. Dalvin Cook, Florida State
-- Cook looks like an early-career
DeAngelo Williams
on tape and needed only three years to break
Warrick Dunn
's all-time rushing record at Florida State, factors that can't be dismissed in his evaluation. He also showed plus straight-line speed with a 4.49 forty at 5-foot-10, 210 in Indy. The rest of Cook's measurables underwhelmed, from his 30.5-inch vertical to his 7.27 three-cone time, all amounting to a putrid ninth-percentile SPARQ score. Cook has off-field flags which can be read all over the internet, and he has undergone three shoulder surgeries. He also fumbled 14 times in college, including six last season. There are enough concerns with Cook that I would bet against most teams considering him draftable in the first round. I still believe Cook will be a quality NFL starter.
6. Joe Mixon, Oklahoma
-- Mixon was not invited to the Combine for well-known reasons. He crushed his Pro Day with workout numbers superior to
Ezekiel Elliott
's despite carrying more weight. Based purely on watching him play, I think Mixon is the best back in this draft. His size (6'1/228), all-purpose ability, and incredible elusiveness have drawn comparisons to
Le'Veon Bell
, and remind me of Ricky Watters. Mixon is a good enough athlete and pass catcher that I believe he could be a starting wide receiver in the NFL. The draft capital a team is willing to invest in Mixon considering his baggage will go a long way toward determining his fantasy football outlook. Some pick prognosticators believe Mixon will be selected on the draft's second day. Others do not think he will be drafted at all.
7. John Ross, Washington
-- Ross cemented himself as a top-three wideout prospect by setting a new Combine record in the forty (4.22) and further confirming his explosiveness with an 11-foot-1 broad jump, third best among all receivers in Indy. Ross' track record of production is limited with only one college season above 400 yards, but his talent isn't in question. His biggest red flag is durability. Ross' collegiate injuries included a torn right meniscus, microfracture surgery, a torn left ACL and meniscus, and a torn labrum in his shoulder, which Ross had repaired immediately after the Combine. Ross stands 5-foot-10, 188 with tiny hands (8 ¾") and questions about his ability to beat physical press coverage. In fantasy terms, Ross profiles as a volatile contributor who is unlikely to command heavy target volume.
8. JuJu Smith-Schuster, USC
-- Wildly productive at a remarkably young age in the Pac 12, Smith-Schuster's game tape nevertheless left something to be desired. He did everything well, but didn't do the spectacular. Thus, there were questions about his athleticism entering the Combine. Smith-Schuster delivered solid-if-unspectacular workouts, running 4.54 with a 32.5-inch vertical and 10-foot broad jump at 6-foot-1, 215. While the wow factor is still missing, Smith-Schuster confirmed he possesses NFL-level athleticism on top of an impressive resume. As Smith-Schuster won't turn 21 until November, he is a full
four years
younger than 2016 first-round pick
Josh Doctson
and likely has significant room for growth. I think he will be a day-two NFL pick and has a chance to develop into a high-end No. 2 wideout.
9. Chris Godwin, Penn State
-- Barely 21 years old – he turned just before the Combine began – Godwin topped 1,100 receiving yards as a 19-year-old sophomore in the Big Ten, and scored 11 TDs at age 20 last year.
Reception Perception
guru Matt Harmon mentioned on the Rotoworld Podcast that Godwin scored higher than Clemson's
Mike Williams
as the top contested-catch receiver in the draft. Pegged as a third- to fourth-round prospect by NFL draft websites, Godwin performed like a first-rounder in Indy, registering a top-four SPARQ score with 4.42 speed and a springy 10-foot-6 broad jump at 6-foot-1 and 209 pounds. Godwin needs to be taken seriously as a potential top-50 NFL pick.
10. Alvin Kamara, Tennessee
-- A committee back throughout college, Kamara shows darting quickness and an impressive combination of burst and acceleration on game tape. Although he ran a mildly disappointing 4.56 forty at 5-foot-10, 216 pounds, Kamara posted the highest SPARQ finish among all running backs in Indy by shining in the vertical (39.5") and broad (10'11") jumps, which test lower-body explosion. While Kamara is a fun player to watch, I think he is best suited as a change-of-pace back with punt return value in the pros. Kamara never reached 20 carries in a college game and topped 15 carries just three times in 24 appearances. Still, NFL teams seem smitten with Kamara's skills and believe he was underutilized at Tennessee. He apparently has a chance to be a first-round pick.

11. O.J. Howard, Alabama
-- This year's tight end class has been everything it was billed to be and more. It is headlined by Howard, the best blocking tight end I have ever seen come out of college and a freak athlete who equaled
Leonard Fournette
's 4.51 forty at 6-foot-6, 251 – five inches taller than Fournette and 11 pounds heavier. Howard's 10-foot-1 broad jump was wideout-esque, and his three-cone (6.85) led all tight ends in Indy. I wouldn't bet against Howard as a top-ten pick. He is the likeliest tight end in this class to earn a first-year starting role and the highest-floor prospect at his position.
12. David Njoku, Miami (FL)
-- Njoku didn't run as fast in a straight line (4.64) as Howard, but he tested as a superior all-around athlete with a 93rd-percentile SPARQ score compared to Howard's 83rd. At 6-foot-4, 246, Njoku equaled 5-foot-11, 188-pound
John Ross
in the broad jump (11'1") and beat Ross in the vertical by a half inch (37.5"). Only Howard and 234-pound
Evan Engram
posted better three-cone results than Njoku's 6.97 among tight ends in Indy. Njoku's arm length (35 ¼") and wingspan (82 1/2") are nearly equal those of LeBron James (35 ½", 84 ½"). A dominant post-catch receiver and competent blocker on the line of scrimmage, Njoku arguably offers a higher long-term ceiling than Howard.
13. Evan Engram, Ole Miss
-- Whereas Howard and Njoku were frequently used in pro-style alignments at the line of scrimmage, Engram spent almost all of his college snaps at slot receiver and lined up out wide. That blocking inexperience will only hold back Engram if his NFL coaches try to force him into a traditional tight end role. Standing 6-foot-3, 234 with scintillating 4.42 speed, Engram is a wide receiver through and through. He tested out as a 94th-percentile SPARQ athlete in Indy, beating both Howard and Njoku in composite score. Engram has a serious chance to be a first-round NFL pick. From a fantasy standpoint, I think Howard, Njoku, and Engram are interchangeable enough that you could flip their Dynasty rookie rankings and have just as good a shot at getting the optimal results.
14. Taywan Taylor, Western Kentucky
-- Taylor profiles in the
Kendall Wright
-
Emmanuel Sanders
range as an 81st-percentile SPARQ athlete who dominated in college as Western Kentucky's all-time leader in every meaningful receiving category. As a senior, Taylor went 9-121 against Alabama and 9-112 against Vanderbilt. While Taylor seems unlikely to develop into a legitimate No. 1 NFL receiver at 5-foot-11, 203 without lid-lifting speed (4.50), I think the odds are good he earns a long-term starting role.
15. Carlos Henderson, Louisiana Tech
-- Something of a one-year wonder, Henderson failed to hit 800 yards in each of his first two college seasons before turning pro following a breakout junior year in which he posted 82-1,535-19 (18.7 YPR) receiving and finished No. 2 in the nation with a 32.2-yard kick-return average. The best post-catch receiver in this year's draft, PFF College charted Henderson with a nation-best 48 missed tackles forced last season. With 4.46 wheels and an explosive broad jump (10'11"), Henderson profiles as a dynamic slot-flanker on offense with field-flipping special teams value.
16. D'Onta Foreman, Texas
-- Listed at 6-foot-1, 249 as a Longhorn, Foreman weighed in at a much-smaller 6-foot, 233 in Indy. He benched 18 reps of 225 pounds before being diagnosed with a stress fracture in his foot at medical checks. Foreman is expected to be ready for Texas' Pro Day on March 28. Just a one-year starter, Foreman won the 2016 Doak Walker award by leading the NCAA in rushing yards per game (184.4). He caught only 13 passes in his three-year college career, however, and will have to learn to pass block from scratch. On college tape, Foreman shows impressive quickness for his size but is a finesse runner in a power back's body, struggling to consistently overcome contact. I think his negatives may outweigh his positives, and ultimately see Foreman as a boom-bust prospect.
17. Curtis Samuel, Ohio State
-- Popularly likened to
Percy Harvin
– who also played for
Urban Meyer
– Samuel shuttled between slot receiver and tailback as a Buckeye, logging more career rushing attempts (172) than receptions (107) and sprinkling in on kickoff and punt returns. Samuel raised his stock considerably in Indy, blazing 4.31 at 5-foot-11, 196, even though his broad jump (9'11") and three-cone time (7.09) were at least mildly disappointing. Samuel's perceived value is certainly on the rise in Dynasty circles; I've seen him selected in the first round of post-Combine rookie drafts. I think he is a gadget player who could hit if utilized in a fantasy-friendly way but just as easily amount to very little.
18. Cooper Kupp, Eastern Washington
-- A prolific FCS receiver who played virtually all of his snaps in the slot, Kupp tested like a slot-only receiver in Indy with 4.62 speed and 23rd-percentile SPARQ athleticism at 6-foot-2, 204. Kupp's 6.75 three-cone time ranked in the top ten at his position and is most indicative of his skill set as a quicker-than-fast possession target limited to interior routes. Kupp may be the most landing-spot-dependent receiver in this year's class. Turning 24 after the draft, Kupp has likely reached his athletic peak with minimal growth potential. He will probably need to fall into a high-volume role with at least above-average quarterback play to make a meaningful fantasy impact.
19. Josh Reynolds, Texas A&M
-- Compared to ex-Bengals WR
Chris Henry
by astute football observers Josh Norris and Joe Goodberry, Reynolds' ball skills pop on tape as a confident hands catcher capable of contorting his body and arms to snatch passes away from defenders in contested situations. Built much like Henry (6'4/197, 4.56), Reynolds ran 4.52 at 6-foot-3, 194 at the Combine and plays with an innate on-field swagger. Coming from Texas A&M's "Air Raid" offense in which receivers never move, one big obstacle Reynolds faces is his utter lack of experience playing any position other than ROWR. Should Reynolds overcome that, I think he will have a chance to develop into a quality No. 2 wideout.
20. Zay Jones, East Carolina
-- Whereas fellow former ECU receiver
Justin Hardy
ripped up college but flopped at the Combine, Jones' athleticism translated with a 94th-percentile SPARQ finish at 6-foot-2, 201, showing burst in the forty (4.45) and especially the broad jump (11'1"). It remains concerning that Jones lived on quick hitters and bubble screens against sub-par competition in the American Athletic Conference, never averaging more than 11.2 yards per reception in a college season. Jones is a "big slot" prospect with better measurables than
Cooper Kupp
, but less of a post-catch threat.
21. Marlon Mack, South Florida
-- Although Mack's boom-bust running style will be a concern for teams, Mack's playmaking ability and aggressive on-field mentality jump off his college tape. Mack helped himself in Indy, posting top-five SPARQ results with a 4.5-flat forty-yard dash and above-average vertical (35.5") and broad (10'5") jumps at 5-foot-11, 213 pounds. Mack averaged 6.69 yards per carry over his final two college seasons and excelled in the passing game, at times lining up outside and in the slot. I think an NFL team would be smart to use Mack similar to how the Falcons employ
Tevin Coleman
.
22. Jeremy McNichols, Boise State
-- McNichols was a Combine winner, running 4.49 at 5-foot-9, 214 and registering the sixth best SPARQ score among running backs. Only three backs logged better three-cone times than McNichols' 6.93, and all weighed in significantly lighter. McNichols' best attribute is his passing-game ability. Often lined up out wide and even used on vertical routes at Boise State, McNichols caught 88 passes during his final two years and was charted with just one sack allowed over his final 237 pass-blocking snaps by PFF College. A converted wide receiver, McNichols is a major work in progress as an inside runner. I think his floor is
Travaris Cadet
with a chance to become
Bilal Powell
.
23. Samaje Perine, Oklahoma
-- The Thunder to
Joe Mixon
's Lightning in Oklahoma's backfield, Perine topped 1,000 rushing yards in each of his three college seasons and showed a no-nonsense, north-south running style that should translate well into an NFL short-yardage and clock-killing role. He would be a natural fit to replace free agent
LeGarrette Blount
on the Patriots. Perine's Combine went about as expected. He ran 4.65 at 5-foot-11, 233 and best projects as a committee back/role player.
24. Aaron Jones, UTEP
-- Jones turned pro after finishing his redshirt junior campaign fourth in the NCAA in rushing yards (1,773) and totaling 2,006 yards from scrimmage. A big-play machine, Jones' on-field athleticism translated smoothly into t-shirt and shorts, posting the second best three-cone time (6.82) among running backs invited to the Combine behind
Christian McCaffrey
, and the second best SPARQ score behind
Alvin Kamara
. Jones only ran 4.56 at 5-foot-10, 208 pounds, but his explosiveness showed up in his vertical (37.5") and broad (10'7") jumps. On college tape, Jones demonstrates plus vision, darting quickness, and decisiveness on inside runs. Projected as a late-round pick to priority free agent by scouting websites, Jones is firmly on the radar as a value-pick sleeper in Dynasty rookie drafts.
25. ArDarius Stewart, Alabama
-- His intermediate and vertical usage limited by bad quarterback play, Stewart amounted to gadget player at Alabama whose touches were mainly manufactured near and behind the line of scrimmage. On college tape, Stewart did show a knack for making things happen after the catch and at times moved and played similar to
Golden Tate
(5'10/199, 4.42), to whom Stewart profiles similarly in size (5'11/202) and long speed (4.49). I'm not sure Stewart possesses the ball skills or downfield playmaking ability of Tate and would project him more as a sub-package No. 3 receiver type.
26. Kareem Hunt, Toledo
-- Hunt impressed on college tape and at January's Senior Bowl, but his Combine left a lot to be desired. Hunt managed a 4.62 forty at 5-foot-11, 216, and underperformed in the broad jump (9'11"). I'm not writing off Hunt due to his sub-par measurables, but they are likely to affect his draft slot. I expect Hunt to be a third-day pick who faces an uphill battle for playing time.
27. Ishmael Zamora, Baylor
-- At 6-foot-3, 220 with sporadic flashes of dominance on college film, Zamora's skill level isn't far off the top wideouts in this year's class. Zamora started for only one year at Baylor, however, and was not invited to the Combine after a disturbing video surfaced of Zamora kicking and beating his dog with a belt in August of 2016. Most online scouting services grade Zamora as a fringe-draftable prospect. The Baylor Pro Day will take place on April 5. Assuming Zamora is invited, we should get a better feel then for whether NFL decision makers see him as worthy of a late-round flyer.
28. Bucky Hodges, Virginia Tech
-- Hodges did not play tight end for the Hokies. At a hulking 6-foot-6, 257, Hodges served as Jerod Evans' X receiver and was used similarly to Clemson's
Mike Williams
as a jump-ball and contested-catch target who generated minimal separation. On college tape, you rarely saw Hodges running routes and "getting open." His skill set more that of a basketball player, Hodges offers absurd 95th-percentile SPARQ athleticism and immense long-range upside. Hodges has only been a tight end wide receiver for three years after being recruited as a quarterback, however, and he is still learning how to play. I do not anticipate Hodges playing much as an NFL rookie.
29. Jake Butt, Michigan
-- The 2016 Mackey Award winner as college football's top tight end, Butt tore his right ACL and meniscus in 2014 and re-tore the ACL in December's Orange Bowl loss to Florida State. When healthy, Butt profiles as a traditional in-line tight end with reliable hands and adequate blocking ability in the mold of Eagles TE
Zach Ertz
. Butt may "redshirt" his rookie year, but he has a chance to develop into a lower-end NFL starter capable of staying on the field all three downs.
30. Chad Hansen, California
-- An Idaho State transfer who spent two years at Cal before turning pro, Hansen caught everything
Davis Webb
delivered his way during a breakout 92-catch redshirt junior campaign. Hansen showed average athleticism at the Combine, registering 53rd-percentile SPARQ results with 4.53 speed and a 35-inch vertical at 6-foot-2, 202. Like Texas A&M's Josh Reynolds, Hansen comes from an "Air Raid" offense in which he played every snap at right-outside receiver. Thus, Hansen has no experience on the left side of the formation or in the slot. I came away from Hansen's college tape comparing him to Patriots WR
Chris Hogan
as a sure-handed if unspectacular third receiver-level talent.