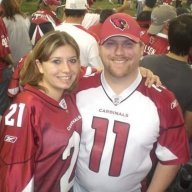 Joined

May 15, 2002
Posts

25,152
Reaction score

30,146
Location
1-DJ Humphries - OT - Florida
+Has left tackle feet/athleticism, and a work ethic to maximize them.
-Unpolished technique which is Massie's issue as well. Not a need right now.

2-Markus Golden - OLB - Missouri
+Leader which we need. Physical which has worked in our system.
-Not a great athlete, and I'm not sure I see him running down Wilson or Kaep...ever.

3-David Johnson - RB - Northern Iowa
+Big athlete, who has the other areas needed by RBs down.
-Doesn't run with much power. Finesse player in college.

4-Rodney Gunter - DE - Delaware St.
+I won't pretend to know anything about this guy. Apparently Buckner (d line coach) raved about him the most of any prospect he worked out.
-Campbell, Peters, Redding, Stinson, Rucker, Mauro...I'm just not sure how likely it is that this guy beats one of them out for a roster spot.

5a-Shaquille Riddick - OLB - West Virginia
+Edge, speed guy who had a breakout season this year.
-Is different from any other edge player on our roster, will coach be tolerant?

5b-JJ Nelson - Returner - UAB
+Speed, fills the return need, and can't be softer than Ted Ginn.
-Will be on the weight program, who knows if he keeps his speed.

7-Gerald Christain - TE - Louisville
+Good athlete, more of a H Back
-Doesn't fit Arians mold of TEs. Question of how he will be used.

#########

My feelings of drafts, and probably similar to most, is that I like the ones that match the needs I see, and the prospects I like. This one didn't do that. ILB is a glaring hole which Keim has admitted. That is on him when it goes belly up during the season. CB has zero depth. I don't hate Peterson, Powers and Bethel as our top 3, but after that it is a train wreck in terms of talent. Again, when injuries happen, we are screwed unless someone emerges. To me, past the lack of addressing needs is an overall feel that we drafted limited or very developmental players every round. Now, most draft picks require coaching up, but Humphries struggles with technique, Golden lacks speed, Johnson interior power, Gunter experience vs top competition, Riddick lacks a history of production, JJ size, and Christain lacks a role. Of that list, Riddick and Humphries seem like the best justified players.

I put this on Keim if it succeeds or fails this year. ILB and CB are scary thin positions after Keim stated they needed to add speed at LB and a tall/fast CB to develop. They flirted with adding a power RB in Peterson, and took a large, finesse one instead. I don't know how we plan to control the game on offense with about the same running game as we had last year, and TEs will continue to eat us alive after we lost Cro and didn't add an athletic LB to help. Also, I'm not sure who the Cards are expecting to chase down the QBs in our division.

We will see.