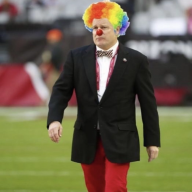 Joined

Feb 14, 2003
Posts

34,961
Reaction score

22,370
Location
You'll have to struggle mightily to get that TV though. Ouchie, Daves and I did the above for years and even with three of us, we regularly had to badger people to put our game on, often missing parts of the first quarter. And the price of going to the bar every week and not being the douche who just orders a Diet Coke for three hours will likely dwarf the cost of getting the Ticket. Figure you get at least three drinks while watching if for no other reason than not to screw your waitress out of serving a willing customer, that's prob at the very minimum 25 bucks spent per game (if you don't eat) if not more. Multiply that 17 games and bottom of the barrel price to bar watch is probably around 450.

trust me… I've done the math. Hell, I've done the math on what it'll cost me in gas to go from LA to the OC every Sunday and to see how that lines up with the package.

So far, every calculation has me coming back to this sad fact… I probably won't get the ticket this year and even more likely won't watch all the games for the first time in… forever.

Times is tough on this end with the writer's strike and I gotta be smart with money and it sadly seems pretty stupid to drop 300 on a team that is not only going to be atrocious, but doesn't even much a chance to offer a view of the future without Kyler on the field for who knows how long.
It's been a while since I've had to do this, to be sure. Back in the day at UC Davis there was a bar that prided itself on showing every game at least somewhere. So you'd get a little speaker and watch and listen.
You're right that the economics shifts if you don't even get an in-market game. I don't know how CO works; is Dallas their natural NFC team? Probably.
Thoughts and prayers on the writers strike. Screw the producers; I think about you often when I hear about shrinking writers rooms and how important they are to building a career in Hollywood. Maybe
@Ouchie-Z-Clown
comes off with that login password for his bro.