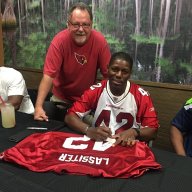 Living is Easy with Eyes Closed
Joined

Apr 30, 2007
Posts

15,541
Reaction score

7,592
Location
Maybe everyone will think more positive of Kirk now. It has always been the 'rule' that WRs don't breakout until year 3. Several have gone against the curve the last couple years. But reality leans much more towards the 3 year rule for most.

If Greene can play pretty good this season, we will be a real threat to pass defenses. If not, and he is over the hill, hopefully we can find a 3rd WR next year in FA, by trade, or in the draft.

I think Kyler really impressed a lot of sceptics regarding his arm and overall passing ability today. He looked as good as anyone could have dreamed of. I am glad he can scramble so well, I think that masks a lot of miscues by our Oline and will keep him from getting punished in the pocket a great deal, as so many of our previous QBs had experienced. It would be nice if he could have a lengthy Fran Tarkington type of career.
I watched Fran run and in all fairness he outran really slow guys compared to what Kyler is up against. That being said, I wish K1 a lengthy career also.