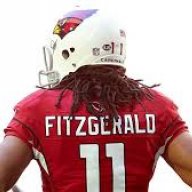 Crawled Through 5 FB Fields
Joined

Aug 10, 2005
Posts

13,405
Reaction score

2,982
Location
Adding Adrian Peterson as the lead RB to improve the Cardinals' woeful running game (ranked #32 in the NFL) will mean some adjustments on the part of the coaching staff.

First of all, Peterson has always preferred to line up 7 yards behind the center. The reason is it gives him time to react to initial penetration and it allows him to build up momentum as the blocks develop.

What BA should do is sit down with AP and chart out his favorite running plays (blocking schemes included). if BA tries to get AP to adapt to his offense, this move is not a fit. However, if BA allows AP the chance to tweak the offense in such as way as to accentuate his strengths, then there's a chance that he can not only improve the running game and put some pressure back on the opposing front 7, but the chance that it allows Carson Palmer to rejuvenate the play action passing game which is his strength.

Ellington remains the 3rd down RB. Penny can be used as a blocker in pass pro and even as a FB in the right situations.

I think this move brings a modicum of hope that the team can hang in there until David Johnson returns. But, adjustments will need to be made and made quickly.