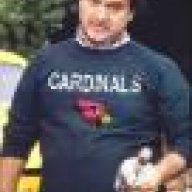 Hold onto the ball, Murray!
Joined

Dec 30, 2002
Posts

36,281
Reaction score

17,311
Location
They bargained the way contacts are dealt with. So that is the cards they dealt themselves. Why sign off on that if you don't like it? I'll tell you why because they got something back for it in return. My guess is they got a bigger piece of the pie.
It goes both ways. I'm not going to bag on the players leveraging everything they can to get better deals. I'm never, ever going to go with the joke "that's the contract you signed" excuse because you can say the same thing about the owners. The team signed him to the contract, but they can leverage the situation by cutting or trading the player. Both sides have options to help do away with unfavorable contracts.