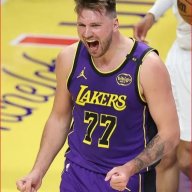 I Want To Believe
Super Moderator
Moderator
Supporting Member
Joined

May 13, 2002
Posts

63,569
Reaction score

10,016
Location
Bill Cosby's Late Show Appearance Canceled Because Of The Rape Allegations
http://www.cinemablend.com/televisi...-Canceled-Because-Rape-Allegations-68416.html
It has not been a good week for America's Dad, Bill Cosby. The iconic comedian's upcoming appearance The Late Show with David Letterman slated for Tuesday November 19th has been canceled. He has been replaced by former talk show host Regis Philbin, a standby for Letterman many times before when a guest bows out of a Letterman spot.
According to The Hollywood Reporter, it is unclear as to whether Cosby or Letterman's people canceled the appearance but a rep for The Late Show declined to comment. Cosby also recently bowed out of a scheduled appearance on The Queen Latifah Show, so it's evident these accusations are causing enough of a stir to impact the comedian's work. This all stems amidst the rape allegations that surfaced after stand-up comic Hannibal Buress brought them to the forefront in a recent performance.
Since Buress' set, the allegations of Cosby's alleged sexual misconduct have been brought back into the forefront. It is no secret that in 2006, the comedian settled out of court with a woman he allegedly sexually assaulted. However, according to official court documents, attorneys have plans to bring forward 13 other women with similar complaints. Adding fuel to the fire was an op-ed piece in the Washington Post by an alleged former victim of the comedian. In addition to the Buress set that brought the allegations back into the spotlight, apparently a new Cosby biography went out of their way to omit the rape allegations in the new tome.
To compound the explosive issue that one of America's most beloved entertainers could be a multiple sex offender, Cosby's social media team had a huge backfire earlier this week. The team had tasked users that follow Cosby on Twitter to create memes about the comic. Seems innocent enough except users used the platform to create memes about The Cos' drugging and sexually assaulting multiple women. The tweet and the meme generator has been deleted as of Monday night.