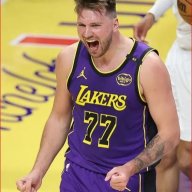 I Want To Believe
Super Moderator
Moderator
Supporting Member
Joined

May 13, 2002
Posts

65,083
Reaction score

12,784
Location
Bickley: Postseason thoughts on Kyler, Super Bowl favorites, bad officiating

One game remains. Thirty NFL teams have been eliminated. Here's what's on the mind of Dan Bickley as the season heads toward its conclusion:
arizonasports.com
One game remains. Thirty NFL teams have been eliminated. Here is what I know:

Kyler Murray's stock has tumbled. He looked overwhelmed and underprepared in a playoff loss to the Rams. His pick-six was the gaffe of the postseason, worse than Dak Prescott and Patrick Mahomes running out of clock, worse than Jimmy Garoppolo's interception that cemented his exit from San Francisco.

Meanwhile, Joe Burrow is displaying far greater toughness and much better body language with less NFL experience, oozing with the leadership that still eludes the Cardinals quarterback.

Murray is also a convenient scapegoat for a beleaguered coaching staff that has compiled its own laundry list of failures and shortcomings.

-------

The Rams will win the Super Bowl in a blowout. With Dr. Dre and Snoop Dogg starring in the halftime show at SoFi Stadium, it will look and sound like the ultimate West Coast party. It will be very hard to watch.

It's also the best outcome possible for football fans in the Valley, as it will ramp up the heat, the organizational urgency and the ownership expectations in Arizona, site of Super Bowl 57.

-------

Overzealous officiating drove me to the brink of madness this past season. But in the past two weeks, I have seen NFL crews swallow their flags in unison, ignoring garden-variety holding penalties, pre-snap penalties, delay of game violations and illegal contact infractions. They turned their back on vicious hits and allowed Tyreke Hill to flash a peace sign on his way to the end zone.

It made for spectacular television. I hope the NFL realizes and emphasizes the importance of official restraint in the future. Or maybe the league got the point after watching the clunky Cowboys commit 14 penalties in a playoff loss to the 49ers.