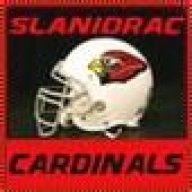 ASFN Icon
Supporting Member
Joined

Jul 11, 2002
Posts

13,635
Reaction score

11,328
Location
Sounds simple but we are all guilty of rating a player or his ability based on results of the play or game.
" Murphy stinks, he gave up a td". Many times we fail to analyze the situation. Was the safety suppose to help him? Did the Qb have 8 seconds to throw the ball?
When a linebacker is making a tackle 5 yards pass the line of scrimmage are the d-linemen engage their man?
When a Qb throws a pick did the Wr run the right route? Did he read the zone coverage wrong.
Just the opposite with a wr.
So when we think of players on this team that are going to be free agents is it really wise to just let them leave?How is that building a team?
I want Murphy, Allen, Dortch and others to remain on this team. Are they pro bowl players? Maybe not. Maybe not yet. But they can certainly be part of the building blocks.

Find a way to keep your players. That being said, where's Hasson Reddick? Oh that's right . We let him walk away and kept Gardack. That's not the way to get better.