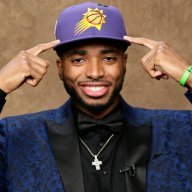 Joined

Oct 24, 2002
Posts

21,723
Reaction score

6,088
These are in no particular order. BTW, I said "Big Three" but I understand that the third player in some of these is marginal.

Book, Durant, Beal
Holiday, Tatum, Brown
Lillard, Giannis, Middleton
James, Davis, Russell
Jokic, Murray, Porter (Gordon?)
Butler, Bam, Herro

It seems that some of the better teams are more Big Two, with another two or three really good players. To me, our roster has three stars, but three fragile stars. We improved depth, but Nurkic is barely at NBA starter level and we don't even know yet if there is another forward on the roster worthy of starting. I am not quite as hyped about this year as others. I think Nurkic will start well, but we will see what he looks like in March. Hope I'm wrong.