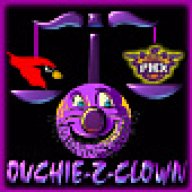 Joined

Sep 16, 2002
Posts

57,937
Reaction score

47,839
Location
I'm looking at it this way… between normal injuries, and his fair share of complete space cadet games, Ayton probably only showed up for 50 games total for the team. 2/3s of those were solid and 1/3rd of them were tantalizingly awesome. But bottom line is he gave effort 50 games of the season.

Nurkic will probably only play 50 games this season, but play hard in all of them so they're a wash.

Allen is an upgrade over… everyone else on the bench.

Little has a little upside, but wouldn't expect much.

AND almost as important as any of the above, you will have buy in from EVERY PLAYER on the team. That part addition by subtraction.

But none of that actually matters if health totally details this team. But that would have been the case with or without Ayton.
It will be interesting to watch games where I no longer complain about effort. Will there be games where somewhat limited players don't excel? Sure. But I don't expect to question their effort or motivation. What a relief that will be.
To be totally transparent, I'm a little crestfallen that today marks a day where we have to admit that our only #1 pick in suns history, and the seeming best suns center, failed to ever live up to our expectations as a sun. That's locked in now. Can't even hang onto potential. And that is sad.
What I'm not sad about is not having to root for a big goofy man-child that deep down I believe just won't ever be what he could be. I won't have to worry about his #1 priority being his next contract. I won't have to hear the statements made evidence a complete lack of self-awareness. I won't have to watch him fumble passes. I won't have to watch him get pushed outta post position by point guards. I won't have to see him get pushed outta bounds on box outs without effort from him. I won't have to wish he could draw fouls.
I truly wish him well. Seems like a nice enough guy. But man am I glad that I don't have to root for him anymore. And i was so stoked when we drafted him. But I don't. I won't miss it at all. In fact i feel a kind of lightness with his departure. I've never said that about any player on any team for which I'm a fan.