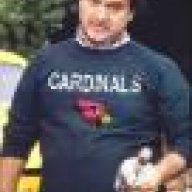 Hold onto the ball, Murray!
Joined

Dec 30, 2002
Posts

35,398
Reaction score

15,810
Location
Common thought around her is that the Cards are thinking of trading back to get more high-end picks in this current draft. I think they might do so, and in so doing, they may pick up extra later picks too. I've thought of one problem with the idea of grabbing more late picks in combination with the FA "plan" thus far, though: A logjam of players at the low end of the roster. By signing so many special teams specialists, it could hinder the growth or even roster status of late-round picks, and we could lose out on a young contributor. This is a possible problem with what we're doing.

An alternative that might help with this potential problem, and a path that would add higher picks while avoiding passing on Anderson at 3, is to trade up. So we have the bottom-of-the-roster spots that are mostly special teamers overstocked? In that case, use our lower picks to move up. If we're worried our C won't be there in round 3, for example, package a few picks to move up in the 3rd or even into the back end of the 2nd. This might help us secure the top young talent we need in the draft while avoiding a logjam lower on the roster. I'd much rather come away from this draft with 3-4 players we think can either be straight-up studs or long-serving solid starters than a scattergun poke-and-hope method of drafting.

Thoughts?