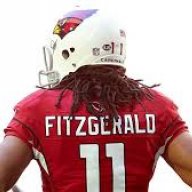 Crawled Through 5 FB Fields
Joined

Aug 10, 2005
Posts

13,405
Reaction score

2,982
Location
One of the most auspicious aspects of the Patriots' win over the Seahawks in this year's Super Bowl is the blueprint that Josh McDaniels and Tom Brady gave the Cardinals as to how to beat the Seahawks' vaunted defense.

Receiver Catches Yds. YPC TD Long Targets

J. Edelman 9 109 12.1 1 23 12
R. Gronkowski 6 68 11.3 1 22 10
S. Vereen 11 64 5.8 0 16 12
D. Amendola 5 48 9.6 1 17 7
B. LaFell 4 29 7.3 1 11 7

Basically, the Patriots focused on the following:

* Throwing away from CB Richard Sherman
* Emphasizing the short to intermediate passing game
* Creating mismatches with the Seahawks' #2, #3 CBs and LBers
* Throwing frequently to the RB out of the backfield
* Creating RAC opportunities for their playmakers
* Distributing the ball equally amongst the personnel

Patriots' Personnel:

3 smaller, quick-footed receivers (Edelman, Vereen, Amendola)
2 big target receivers (Gronkowski, LaFell)

Cardinals' Current Personnel (Smaller, quick-footed receivers):

* Andre Ellington---fits beautifully in this design either as a slot WR or RB.

* John Brown---was used a seam buster, deep sideline threat on deep outs and as a quick screen/hitch WR. What BA and Daryl Drake need to do is develop Brown's short to intermediate game the way the Patriots have with Edelman and Amendola. At this point, this part of Brown's game is a question mark. He certainly has the quickness and speed---but he needs to show he can separate quickly from tight coverage, run precise routes, make quick, clean catches and turn short catches into RAC numbers.

* Brittan Golden---he has some talent in this area, but may not have the physical stamina or durability to handle the role. Golden has the feet, hands and shake ability---so much will depend on whether he can up his game this year.

* Kerwynn Williams---he looks like he has some Shane Vereen type qualities, but at this point we haven't seen enough of him as a receiver to know.

* Marion Grice---interesting that BA used Grice both at RB and at slot WR. He's a good athlete and tough kid.

Cardinals' Current Personnel (big targets):

* Larry Fitzgerald---in his current role he can serve as the Gronk of the offense. We have seen Fitz go into his own beast mode and if he can get accustomed to drawing a #3 CB or OLB as his matchup, there is no reason why he couldn't be very productive in a possession WR/TE role, particularly when, like Gronk, he uses his body as a shield between the ball and his man.

* Michael Floyd---he is a legitimate deep threat who defenses have to respect. What will be interesting to see this year is just how much he can improve his play over the middle, where he has looked skittish and a little turnover prone.

* Jaron Brown---the Cardinals have to like his toughness, his versatility (this kid is not afraid to catch passes over the middle, particularly on 3rd downs) and his ability to make the clutch catch. Plus, he is a legitimate deep threat, particularly up the left sideline.

* John Carlson---had a disappointing season after looking so good in camp and in the pre-season. He has the skill set, but needs to avoid the dropsies and become more consistent, if he remains part of the plans.

* Troy Niklas---was starting to show flashes of receiving ability before winding up on the IR. Huge target over the middle and in the flats.

* Darren Fells---came on strong down the stretch as the top TE option downfield. Showed good, improved concentration and RAC toughness.

Free Agent slot WRs & RBs:

RB Jacquizz Rodgers (ATL)---has the feet, hands and acceleration to be a nice complimentary piece, albeit his a tad smaller than what one might prefer. But, he can be dynamic. Career #s (4 seasons): 305/1,116/3.7/43/5 TD rushing; 155/1,104/7.1/32/5 TD receiving.

RB C.J. Spiller (BUF)---he's been rumored to be of interest to the Cardinals and would be a nifty compliment to Sir Juke and would allow Ellington to play more at slot WR. Can be electrifying in the open field. career #s: 668/3,321/5.0/77/12 TD rushing; 158/1,195/7.6/66/6 TD receiving.

RB Shane Vereen (NE)---quick feet, very good hands, good moves in space. Career #s: 217/907/4.2/21/7 TD rushing; 107/1,023/9.6/83/7 TD receiving.

RB Ryan Matthews (SD)---has good size at 6-0, 220 and serves as a productive, dual threat RB. Is fumble prone, however (15 fumbles/8 lost in 5 years). Career #s: 923/4,061/4.4/51/23 TD rushing; 146/1,110/7.6/42/1 TD.

RB Roy Helu (WAS)---one of best receiving RBs in the NFL who sports a 4.4 career rushing average. Career #s: 255/1,132/4.4/28/7 rushing; 129/1,152/8.9/55/3 receiving.

RB Chris Johnson (NYJ)---talk about lightning in a bottle, but his production has dropped off in recent years which could lower his sticker price but also serve as an incentive for him to bounce back with a big year. Career #s: 1,897/8,628/4.5/94/51 TDs rushing; 296/2,154/7.3/69/9 TD receiving.

WR Randall Cobb (GB)---could be the Cardinals' version of Julian Edelman. Has the feet, moves and open field RAC ability the Cardinals need. Career #s: 227/3,049/13.4/70/25 TD receiving; 27/252/9.3/67/0 TD rushing; 74/1,915/25.9/108/1 TD kickoff return; 74/722/9.8/80/2 TD punt return.

WR Cecil Shorts (JAX)---well liked in Jacksonville for his quick feet and sure hands---pretty good size too at 6-0, 202. Career #s: 176/2,343/13.3/80/12 TD.

WR Eddie Royal (SD)---a real spark plug in the slot and in the return game. Has a very good skill set and the quick feet to turn small catches into chunk yards. Career #s: 338/3,750/11.1/93/25 TD receiving; 34/276/8/1/71/0 TD rushing. Punt returns: 111/1,172/10.6/59/2 TD. KO returns: 57/1,375/24.1/95/1 TD.

2015 NFL Draft Slot WR, RB Playmakers in Top 100 (Rankings by Scouts Inc.):

16. RB Melvin Gordon, Wisconsin
38. RB Ameer Abdullah, Nebraska
41. WR Nelson Agholor, USC
44. RB Tevin Coleman, Indiana
50. RB Jay Ajayi, Boise St.
52. RB Duke Johnson, Miami
55. WR Phillip Dorsett, Miami
65. RB Tj Yelton, Alabama
68. WR Rashad Green, Florida St.
71. WR Ty Montgomery, Stanford
75. WR Justin Hardy, East Carolina
85. WR Stefon Diggs, WR, Maryland
86. WR Tyler Lockett, Kansas St.
87. WR Jamison Crowder, Duke
90. WR Josh Harper, Fresno St.
103. RB Mike Davis, South Carolina
183. WR Antwan Goodley, Baylor (he is going to soar up the boards, imo)

Big Target TEs/WRs in FA:

TE Ed Dickson (CAR)
TE Jermaine Gresham (CIN)
TE Jordan Cameron (CLE)
TE Virgil Green (DEN)
TE Charles Clay (MIA)
TE Lance Kendricks (STL)
TE Julius Thomas (DEN)
TE Daniel Fells (NYG)
WR Torrey Smith (BAL)
WR Kenny Britt (STL)

Big Target TEs/WRs in the Top 150 of the 2015 Draft (per Scouts' Inc.):

4. WR Amari Cooper, Alabama
11. WR Kevin White, West Virginia
12. WR Devante Parker, Louisville
23. TE Maxx Williams, Minnesota
24. WR/TE Devin Funchess, Michigan
30. WR Jaelen Strong, Arizona St.
31. WR Dorial Green-Beckham, Oklahoma
56. WR Sammie Coates, Auburn
63. TE Clive Walford, Miami
76. TE Jeff Heuermann, Ohio St.
93. TE Nick O'Leary, Florida St.
118. WR Tony Lippett, Michigan St.
119. TE E.J. Bibbs, Iowa St.
127. WR Deion Barnes, Texas Lutheran
130. WR Vince Mayle, Washington St.
140. TE Ben Koyack, Notre Dame
141. WR Dez Lewis, Central Arkansas
144. TE Nick Boyle, Delaware

Now, of course, some will undoubtedly say that the Patriots beat the Seahawks' defense because of Tom Brady as much as anything else. Yes, that's true. But, what's encouraging to Cardinals' fans has to be the improvement QB Carson Palmer was showing on short to intermediate passes last year---and especially on 3rd down conversions, which he was leading the NFL in, % wise, before he went on the IR.

It should also be noted how the Patriots' pass happy philosophy enabled them to wear down the Seahawks' pass rush and enabled Brady to erase a 10 point 4th quarter deficit with two excellent long TD drives.

Drew Stanton was not as effective in the short/intermediate passing game---partly because of more conservative play calling and losing Andre Ellington to injury, and partly because of some touch and accuracy inconsistencies.

However, while it may seem that WR, RB and TE are not major priorities this off-season, I would suggest that the offense needs 3-4 more playmakers with the kind of feet, hands and RAC ability that would give the offense the depth and consistent chains moving ability it takes to be the kind of offense that the Seahawks would have trouble defending.
Last edited: