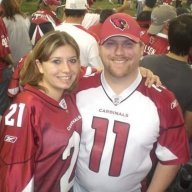 Joined

May 15, 2002
Posts

19,417
Reaction score

14,038
Location
Just a couple thoughts about the game after a night to think about it.

1 - I don't know how you fix the penalties, but they are the single biggest thing holding us back right now.

2 - I am shocked the game was that close. Our defensive line is being held together by dental floss and silly putty. I don't know how long it will take to get Peko up to speed, but we need some bodies sooner rather than later.

3 - Our run defense suffered because of the d line and Simmons learning curve which is ok. New guys were missing gaps and Simmons is just young. It is why I feel like you say Campbell play 1st down reps in the 2nd half.

4 - Amazing that DK Metcalf had 3 catches for 46 yards. In a game that felt like he was dominant, I was shocked to see that line. Obviously Seattle had a plan to run the ball which they did.

5 - Oddly poor game from our offensive line. We all know this unit has physical limitations, but normally they work together better. Neither Sweezy or Murray are good and Beachum may be hitting a wall.