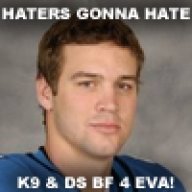 Joined

Apr 30, 2003
Posts

30,484
Reaction score

4,846
First things first, I think last season really pissed me off more than I even allow myself to acknowledge, and then to see the direction this team went from there, has made my general attitude towards the organization become even more bitter and sour.
I digress....yeet.
I was a big Bruce Arians fan, and he had the chance to have a team that would have won and competed for Super Bowls for about 3 to 4 years, but he was robbed of the last two years by injury, and unprofessional behavior by needed players on the roster.
Carson Palmer, Tyrann Mathieu, John Brown, David Johnson, Chris Johnson, Michael Floyd, and Daryl Washington.
Those players stay on the field and stay healthy for Arians throughout his time here, and I could only imagine what would have been the results. It didn't happen.
I was then certain....soooooo certain, that a change in atmosphere and a few changes to the offensive line would take an 8-8 team and bring them back to being competitive. Nope.... BIG nope.
Then there is Steve Keim, a very good GM when it comes to signing free agents. I hate his drafting of players. I think he over thinks things. His job is to provide clarity, and he allows the waters to be clouded, IMHO. Sometimes boring is good. You need a player with X, Y, and Z, and that has the skills and experience. Sometimes the big name that everyone sees, is what you need. Too many small players, from smalls schools. Too many project players. ZERO investment in certain positions on the field. It goes on and on, and he NEVER seems to learn from mistakes. It will be his downfall.
Now on top of that, I have been constantly pining about hiring a sub-.500 college coach, to be HEAD coach. Offensive trends come and go, so making Kingsbury the offensive coordinator ? I would be 100% behind. If the offensive trend dies out, get a new coach. But as a head coach ? I am sorry, but I am old school and a head coach is less of a head coach and more of a business manager. He has a vision and a plan for the entire team. But, this is where MY PERSONAL BIAS comes in. This an old school approach.
You must be registered for see images
BTW those clouds deserved it.
What did I want to have happen ? A more conservative approach, and bring in a guy like Jim Caldwell.
That one's for DVontel.
Yes, boring, but he was able to make the Detroit Lion competitive, and could have worked with Josh Rosen. A good blend of Caldwell and Kingsbury would have produced a good mix of old and new style on offense. This would include staying invested in Josh Rosen, who I believe would be able to play different styles of offenses need be.
I want to be clear, there is no doubt the NFL is going to more "college style" offenses, and I think any team that is not going in that direction is going to be left in the dust competitively. But, I think the Cardinals went a little overboard and forgot their is more to football than offensive X's and O's.
Where I am EXTREMELY happy, is with the defensive selection of Vance Joseph, and after some more research and reading this weekend, I realize I was not 100% correct on how Joseph runs his defense. Vance Joseph will definitely play press-man coverage and blitz, but not like Todd Bowles (who I was a HUGE fan of and still am). Joseph will be aggressive but not as aggressive as Bowles, there will be some zone-blitz schemes, think back to the days of Whisenunt.
Thus I want to look at this draft in two ways. In a way that if I believed in the system the Cardinals are going to implement on offense, and my bitter way.
1. Kyler Murray, QB:
There is no way to deny the talent of Murray. Look back to last year, I want Lamar Jackson more than any other QB. Murray is better than Jackson in every way. The Cardinals brought in Kingsbury, which was a huge risk, so why not do all you can to mitigate that risk buy giving the guy everything he needs. It is EXTREMELY rare a coach gets the exact QB that fits his system. Well, the Cardinals have done that. The Cardinals offense executes properly and Murray is going to take the league by storm. NFL defenses at this time are really buying into playing press-man and blitzing the QB hard. Well, you do that against Murray and he is going to DESTROY your team. With either his feet or his arm.
Bitter:
This offense is not going to be around too much longer, we just poured all our resources into Josh Rosen who is going to figure out the offense and become a dangerous QB from the pocket. Murray is a talent without a doubt. He has all the ability to exploit pressure from the edge, and extend plays in the passing game. But, in the NFL there is a lot of pressure up the middle, the Cardinals SUCK as protecting up the middle, and people forget that Russell Wilson (Murray's comparative player) was hurt a lot because he was getting hit. If this offense fizzles out, is Murray going to be able to play in a different system ? The Cardinals have really pigeoned holed themselves, and this could be a disaster that spans at least five LONG years. Not to mention, the Cardinals currently need a pass rusher, and do not have one after Suggs who is injury prone at his age.
2A. Byron Murphy, CB:
A top 15 talent in this draft. On the mental, and character side, you are not going to find a better prospect. Hard nosed, competitive cornerback that plays more with his mind then his body. He will be a guy that is "in the right place, at the right time." While he is not the best at playing press-man, he does play zone well. While he is not the best against "pick plays", and bunch formations, he is an animal in the run game. He is a perfect fit for Vance Joseph, and has played on the outside in college, and will be out there for the Cardinals across from Patrick Peterson in no time.
Bitter:
The Cardinals have enough slot/safety players. It has been way too long since they spent the resources on a cornerback that can play on the outside. They need some size in the secondary, it looks like Munchkin land out there. They keep throwing these small players out there and they keep getting hurt. Tyrann Mathieu, Budda Baker, and now Murphy. Who is going to cover the tight end ? Who is going to cover on the outside? Murphy is neither fast enough, nor big enough for the outside. The Cardinals can put him out there, but I do not see it working out. They can then put him at nickel back, but is he big enough ? YET, I do think Murphy will work out in Vance Joseph's system IF he stays healthy. And if he has success on the outside, this will be a FANTASTIC pick up. I wanted a bigger more athletic cornerback. Murphy was not on my radar, but that very well could be my fault for having a poor understanding of Joseph's system. Thus I am much happier with this pick and the value today then on Friday. That is what you get for being ignorant. LOL.
2B. Andy Isabella, WR:
The Cardinals needed two wide receivers in this draft. This was one of them. Isabella is going to be more of a role player, but an important role. He is not as fast as his 40 time, but quicker then a damn jack rabbit. Good hands, and is a great asset to the wide receiver room that has two NFL receivers in it, and one is Larry Fitzgerald who is great, but not getting any younger. The Cardinals SUCKED at moving the chains last year, and in the short passing game. This is going to help with that, A LOT. Somewhere he Marcell Shipp is smiling.
Bitter:
Small player ? Check. Small School? Check. Looking over a big receiver that is NEEDED in Air Raid offense? Check. ......seriously? This is the Keim-y-est pick of the draft. Ok. that was Friday. Today looking at the whole draft, and realizing that ......you know.....just MAYBE the rankings of the players in January are more important that the hyped up ones in April are what you should be keeping mind, I REALLY like this pick. Later on, in the 4th round the Cardinals pick up Hakeem Butler, a key player for the Air-Raid offense. My OCD has me wanting to get the big receiver first, and the smaller receiver second (unless that small receiver was Deebo Samuel). Isabella and Butler bring key elements to this offense and compliment the offense very well. Fitzgerald, Kirk, Isabella, Butler, is a good group of receivers to run this offense.
3. Zach Allen, DE (3-4):
The Cardinals need to get some 3-4 defensive linemen after the 4-3 mistake. They have he beef they need, but that Josh Mauro type of 3-4 defense end is a key piece in this offense. Allen has the skills to play the position, and has that Kyle Vanden Bosch type fight and feel to him (KVB was a solid player, BTW). Allen is effort over skill, but he is plenty strong, and will do the dirty work, which is key. Not to mention he has high character and a good understanding of the game. He will be part of the rotation right away, and if he can hang with NFL talent may be starting sooner rather than later.
Bitter:
Not really bitter about this pick. I just thought there were bigger needs, and better talent to be had out there. I have had my fill of try hard guys, and picking one in the 3rd round felt like a reach. That being said, I do like the player, and there was A LOT of value in this pick. If he was a little more athletic, he is a 2nd round talent, and high 2nd round talent, no doubt. I tip my hat to Kraing for making a good point that while there is not a gaping hole and need at the defensive line, there was a need to have some good depth. ......just you know, MAYBE, just MAYBE draft flippin' linebacker or tight end, or offensive linemen ? LOL. Keim hates linebackers apparent. Anyway, happy to have Allen on the roster, and if he has the athleticism to play in the NFL, he could be a steal.
4. Hakeem Butler, WR:
I am going to end this post on a high note. There is no bitter take on this one. I LOVE this pick, and in the 4th round?
You must be registered for see images
Yes, yes, I know all negatives. He has limited route running ability, and questionable hands. I am concerned about the hands, but he is 6'5" 225 lbs, runs a 4.5 and is a bull to bring down. Not to mention the minute this pick is made, it makes the Isabella pick in the 2nd round become a great pick. This pick is where Keim actually showed some professional savvy.
I am still learning about the "Air Raid" offense. I am a Cardinals fan, so while I do not agree with the direction, I am not going to be a stubborn ass about it (well, not a COMPLETE stubborn ass about it), and do want to know about what this team is trying to do, best I can. Hence why I come to this board, and enjoy different football mentalities debating topics.
I do know that you NEED, 100% NEED, above all else, a down field threat. Not only a downfield threat, but a downfield threat that can win "contested, or jump balls". Bruce Arians "no risk it, no biscuit" is essential in these college offenses. Yet, these new coaches are trying to make "50/50" balls, to be more like "75/25" balls in their favor.
Butler does not need to learn a bunch of routes. He needs to run down the damn field as fast as possible, and put the fear into the entire defense to stop him from picking up chunk plays. Butler can do this. He just has to catch the ball, that is the one concern here. Now, what then makes Butler REALLY scary, is when he catches the ball, he is terrifying for a defensive back to bring down. One missed tackle and this guy is GONE.
PICKS 5 thru 7:
Uh, who ? Honestly, I cannot comment on these players. I have no idea who they are. None where on my radar except Caleb Wilson, TE. Who I think is a good pick. He is a pass catching tight end that will move the chains, and knows how to find pockets in the defense. Not much of a blocker tho, but I do not think that is a problem in this offense. I was not able to get as deep in this draft this year since I had a lot of very positive things to work on life wise. Speaking of which I have a floor to fix, LOL.
I will read up on these guys, and maybe comment on some UDFA that are out there. But, most of these guys I am too ignorant on to comment on.
But, to sum it up. If you believe in the direction of the team the first four picks are really good. You should be happy with this draft. If the two defensive players show they can play at their positions and hold up, then you have four solid picks that are going to help shape this team's future.
If Murray holds up, and plays like he did in college, watch out. Things can go very positive, very exciting, and very entertaining in a big way, and sooner than we ALL think.
My old style thinking may have me in a place where, honestly, I am not really excited or interested in this team right now. I think this is going to be a HUGE failure. Yet, realize I say that as a fan. I want this team to win. I could care less about Josh Rosen, nice kid, wish him the best, but he is in Miami, he is no longer a factor (wanted Lamar Jackson anyway, LOL). I want the Cardinals to win, and do not think this is going to make that happen, yet that is just what I think. That doesn't amount to jack squat.
So, hopefully I am wrong, and this team serves me a big helping of crow and we win. Because all Cardinals fans want to see a 16-0 season and a Super Bowl win.