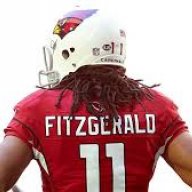 Crawled Through 5 FB Fields
Joined

Aug 10, 2005
Posts

13,405
Reaction score

2,982
Location
1.
QB Carson Wentz, North Dakota St.
BA has been raving about Wentz and with good reason---the size, mobility, arm strength and leadership.
It would take a trade with the Tennessee Titans to move up to the #1 pick because it appears that Cleveland at #2 is trying to decide between Wentz and Jared Goff.
Could the Titans be interested in a trade package that would involve WR Michael Floyd, T D.J. Humphries and the #29 pick?
All three of the Titans' biggest needs (WR, T, and CB) could be solved at once in this trade---then they would have the rest of their draft to fortify other areas. The #29 pick is set up perfectly for taking one of the top CBs in the draft (Eli Apple, Kendall Fuller, Mackenzie Alexander, William Jackson III).
What about the Cardinals losing Floyd, Humphries and the #29 pick?
It would mean adding FAs at WR, T, and CB.
How about Anquan Boldin?---could you imagine him and Fitz lining up in opposite slots? Boldin obviously is not the deep threat that Floyd is, but BA already has two deep threats in Smoke and Fire. Q's ability to to block and his toughness and chain moving ability are all made to order for BA's offense.
The free agent tackle market already has two solid options in Will Beattie and Jake Long---plus, word is that the Broncos are trying to trade Ryan Clady and that the Jets may release D'Brickishaw Ferguson. Plus, as we saw last year, Earl Watford played well at RT before Bobby Massie returned for his suspension.
As for CB, Jerraud Powers and Leon Hall are still available. Signing one of them and drafting a young, promising CB in the 3rd or 4th round could work out fine, especially if Justin Bethel improves.
In acquiring QB Carson Wentz, BA and the Cardinals would be set at the most important position (QB) for years to come.
Clearly, this kind of a trade is a long shot---but---the way BA has been adamant this off-season about adding a young QB and how often he has raved about Carson Wentz---maybe Steve Keim will make a call to the Titans to see what it would take.
xc_hide_links_from_guests_guests_error_hide_media
2. DT/DE Sheldon Rankins, Louisville.
The size, the quick feet---and the sheer competitiveness jump right off the tape. The Cardinals need interior pass rushers, ones who can rip and swim their way to the QB---and ones who are able to slip off their blocks to tackle scrambling threats like Newton and Wilson---Rankins is nifty at that. He's a finisher.
Would the Cardinals be willing to trade the #29 and #92 picks to move up to get him? I would endorse that move without a moment's hesitation.
xc_hide_links_from_guests_guests_error_hide_media
3. RB Derrick Henry, Alabama.
In watching some of high profile defensive players in this draft, I have been watching a number of Alabama tapes---and every time I do, there is no question to me who the best, most dominant player on the field is---it's Derrick Henry. For starters, watch the Fiesta Bowl (NCAA Championship Game) versus Clemson. Henry is an absolute stud---he's tough, resilient and quick to shuffle his feet to find a crease and then explode upfield.
If Henry is on the board at #29---there are tow main reasons why I would urge Steve Keim to take him: (1) a tandem of Derrick Henry and David Johnson for the next 5 years would be tremendous---plus Chris Johnson, Andre Ellington and Stepfan Taylor are all in contract years; (2) in seeing some draft gurus having the Carolina Panthers taking Derrick Henry at #30, that could very well be one of the worst scenarios for the Cardinals if they want to get past Carolina to win the Super Bowl. Henry excels in big games.
xc_hide_links_from_guests_guests_error_hide_media
4. S Keanu Neal, Florida.
The Cardinals need to improve their tackling and their toughness---Keanu Neal is an absolute tone setter where tackling and toughness are concerned---he's the type of player who makes everyone else around him tougher and more energized. Plus, Neal is such a smooth athlete. The thought of having Neal along side of the Honey Badger and Deone Bucannon---wow---this Cardinals' defense could rise to a whole new level of excitement.
xc_hide_links_from_guests_guests_error_hide_media
Your thoughts?
Who are your 4 top players?
Last edited by a moderator: