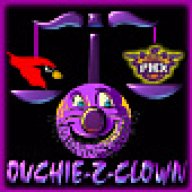 Joined

Sep 16, 2002
Posts

57,175
Reaction score

46,532
Location
I disagree and I know I'm not alone. You can not say for certain it wouldn't happen. Look what Bridges is doing now. He's elevated his game and will most likely be in talks for an All-Star nod next season in Brooklyn. He was headed that direction here as well but Brooklyn making him the primary option definitely fast tracked it. That team wasn't expected to make the Finals the year before either and writing them off so soon is short sighted.

Look at the #3 and #4 guys on both Denver and Miami, I'd take Mikal and Cam over what Miami has and arguably over Gordon and MPJ also. That team could have been retooled in a number of ways to improve, whether Ayton was dealt or not.

There's many moves that could have been made and the Suns seemed locked on Durant when Durant has never won a title outside of Golden State and they've won with and without him. He's not the difference maker some sell him as. He was great but our window is slamming shut fast due to his age and injury history. Then what? Booker wants out? I'm not going to pretend I know but after seeing Paul fall off a cliff, the last thing this team should have done is traded for another player with maybe 2 years left at high level. We saw that story already with Paul.
So are you saying the Paul deal was a mistake? The deal that got us to a finals and a record regular season? I still make that deal over and over again. It's what elevated bookers standing in the nba and made us a desired destination for other stars. Made book a destination teammate.