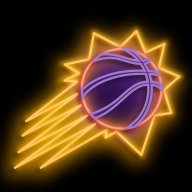 Joined

Mar 8, 2015
Posts

10,907
Reaction score

8,344
So he (or more likely his agent) are trying to create a de facto no trade clause. Portland will probably give in but they are fools to do so. IMO they should honor his request to not be traded anywhere other than Miami by keeping him. Go public with something like this "losing one of the all time great players is obviously going to hurt this franchise, taking back negative value for him will just set us back even further as we endeavor to build a winning team".
It's really an interesting situation. Portland doesn't have much to lose by waiting - but Dame is scaring other teams away from even making decent offers for him.
To me I think OKC should make an offer of like 4 firsts and a player or two. They basically are a playoff team with a bunch of young assets and they still have like 15 first rounders saved up. Dame can BS all he wants, but he would report there and have a legit chance, especially if some of their young guys make strides.
OKC isn't going to have a way to keep all these draft picks anyway.