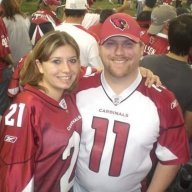 Joined

May 15, 2002
Posts

25,817
Reaction score

32,248
Location
The thing I am most excited for this season is hopefully gleaning some answers regarding certain players and one coach.

1 - Can Kyler win a meaningful game?
-In year 4, the excuses are running out. A talent deficient NFC should provide Kyler with an opportunity to clinch a postseason birth in December. Can he do it?

2 - Was Christian Kirk a deficient outside wide receiver?
-Hollywood Brown is going to have plenty of opportunities to play outside with Hopkins out. Can he produce where Kirk couldn't?

3 - Does talent on Vance's defense matter that much?
-There have been plenty of threads about this but I feel like this is the year where we find out. No Chandler Jones. No Patrick Peterson. No Jordan Hicks. No Jordan Phillips. The Cardinals will enter the season around 20th in defensive spending and only have JJ Watt and Budda Baker with a cap hit over 6 mil. Will we see a difference with Vance's bend don't break scheme and philosophy?

4 - Does Kliff's offense really utilize a "gadget" piece?
-First we drafted Andy Isabella to unlock Kliff's offense. That didn't work. Then we drafted Rondale Moore and the results were not terrible but definitely underwhelming but he was on a rookie contract. Now we get year 2, same player, and we can see if the gadgets can actually produce in this offense.

5 - Was Will Hernandez held back in NY by the dysfunction of the Giants or is he just a replacement level lineman?
-Will is moving to a system and coach he is familiar with and I don't see much competition on the roster for him. He should have every opportunity to show he was worth a top 40 selection.

There are a lot of these, but there are the larger more global questions that I believe we should have answers for by the end of the year. There are others (Simmons, Collins, Josh Jones) that I am not certain will get enough run to be answered.