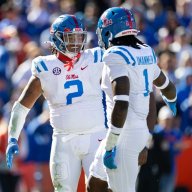 Joined

Jan 28, 2015
Posts

11,366
Reaction score

17,988
Now, let's keep it realistic. I don't think there's a chance in hell guys like Pitts, Smith, Waddle, Chase, Sewell, Slater, Surtain, & Farley fall to us. Guys that have been mocked in the top 12 for the entirety of the draft cycle. Try not to include them.

Guys like Vera-Tucker, Bateman, Horn, Ojulari, Rousseau, Darrisaw, Ossai, etc, all have fair chances to fall to #16.



WANT: Alijah Vera-Tucker. Versatile OLine that was very good at LT for the Trojans, but GREAT at LG for them. He is a Day 1 starter at LG, which I would then move Pugh to RG. Play the rookie where he's most comfortable at. This gives a huge boost to our interior, especially going against the likes of Aaron Donald & even Bosa when he slides in. He's polished, athletic, & has sky high All-Pro potential. He will help Kyler a ton & our RBs a ton as well. Winning starts up front.


STAY AWAY: Any ILB. Yes, that includes Micah Parsons & Zaven Collins. It is 2021, unless you already have a dominant DLine in front of you to keep your ILBs clean, you should not be building around your ILB. Look at all the best ILBs in the league: Fred Warner, Eric Kendricks, Darius Leonard, Lavonte David, Bobby Wagner(albeit slowing down), none of these guys were drafted in the first round. Also, with as many needs as we have, the value just isn't there for us to be taking one. Having a Kuechly/Davis or Willis/Bowman sounds good, but those guys also had very good DL group in front of them to take the pressure off. As of this very moment, we don't. Drafting 1st round ILBs in back-to-back years in insane. Stay away from any ILB.