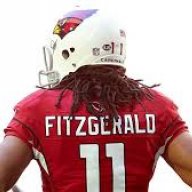 Crawled Through 5 FB Fields
Joined

Aug 10, 2005
Posts

13,405
Reaction score

2,982
Location
I am going to go through each position in the draft and share my thoughts about the prospects. Would love to hear your thoughts.

The QBs I Love:

Marcus Mariota, Oregon. Just love this kid's character and composure. Outstanding athlete---can do it all. Love the way he lights the scoreboard up early in games, which shows how prepared he is. Plus, he keeps turnovers at a minimum.

Garrett Grayson, Colorado St. Tough and very accurate. To me he possesses some Tom Brady-like qualities. Doesn't wow you with arm strength, but keeps coming at you with precision throws, particularly under pressure.

The QBs I Like A Lot:

Brett Hundley, UCLA. Watched a lot of tape on him and man there's a lot to like. I think he doesn't get enough credit for his accuracy---but it's mostly on short and intermediate passes. Love his escapability---but he gets a little too antsy at times, which was in part due to UCLA's shaky pass protection.

Bryce Petty, Baylor. Love the way he can quick-flick it---and love how hungry he is to score points, a la Kurt Warner. Would like to see him step into his throws more. At times he's a little too loosey-goosey. But he knows when to buckle down.

The QBs I Am Intrigued With:

Blake Sims, Alabama. I see some Russell Wilson type qualities in Sims in that he extends plays and is a very good scrambler with 4.5 speed and a hard charging running style. I think he has just as good an arm as Wilson, maybe even stronger---but no one on the planet is as cool under pressure as Wilson, and this is where Sims needs to improve and with experience I think he can. His height does not seem to hamper him---he looks and plays bigger.

Sean Mannion, Oregon St. Love his height and vision. His release is a tad too slow for my liking---but I read that this is an area he is working diligently this off-season on. Was surprised to see him scramble for some yards at the Senior Bowl, although he won't threaten anyone with his legs in the NFL.

Brandon Bridge, South Alabama. Looks like a slightly skinnier version of Cam Newton. Stands tall in the pocket, has a smooth delivery and an excellent arm. Lacks experience and thus has trouble getting into a consistent rhythm. But, he flashes impressive talent.

The QB I Am Leery Of:

Jameis Winston, Florida St. I don't question his physical talent, although he often looks like he could be in better shape. What I question is his preparation (consistently slow starts in games which often included bad interceptions), his off the field issues (for him to stand on a table in the cafeteria at FSU and to shout what he did---in light of the accusations against him---was sheer stupidity, let alone egregious lack of class and immaturity) and his love for baseball (it would not surprise me at all if he switches to baseball, especially if the going gets tough). And that's the thing---Jameis is no longer going to be protected and pampered by the FSU coaches and admins---he is no longer going to be surrounded by superior talent across the board than his opponents'---and he is going to have to deal with the pain of losing, matched with the Monday morning pain of playing on Sundays---which will be a test of his character and will. Now---this kid can turn it on when he wants to, we've all seen that. And he can throw it big-time. A coach like BA would be ideal for him because BA would be straight with him and would develop him and demand the best from him. Not so sure about Lovie, especially with the way Lovie pampered Cutler.

What I Would Like for the Cardinals:

I would love it if Steve Keim found a way to draft Garrett Grayson so that we have the QBOF being groomed behind Carson Palmer for a year or two. I see this is a higher priority than most do, especially after last year's QB fallout.

I am not that high on Stanton, especially at his salary and it being his last year under contract. It struck me as kind of odd how BA played so conservatively with Stanton, which suggests to me that BA doesn't trust in him the way he says he does.

As for Logan Thomas, as much as BA likely feels he has to be invested in him, I just don't see it happening. But I am certainly intrigued with Thomas as a TE prospect.

Chandler Harnish is an interesting addition because of his familiarity with BA's offense---and he may wind up being the #3 QB at some point.
Last edited: